West Bend, WI – West Bend Theatre Company announces the return of "Flanagan's Wake" to the West Bend Masonic Center for the Saint Patrick's season. The play is an interactive comedy with music and improv theatre antics.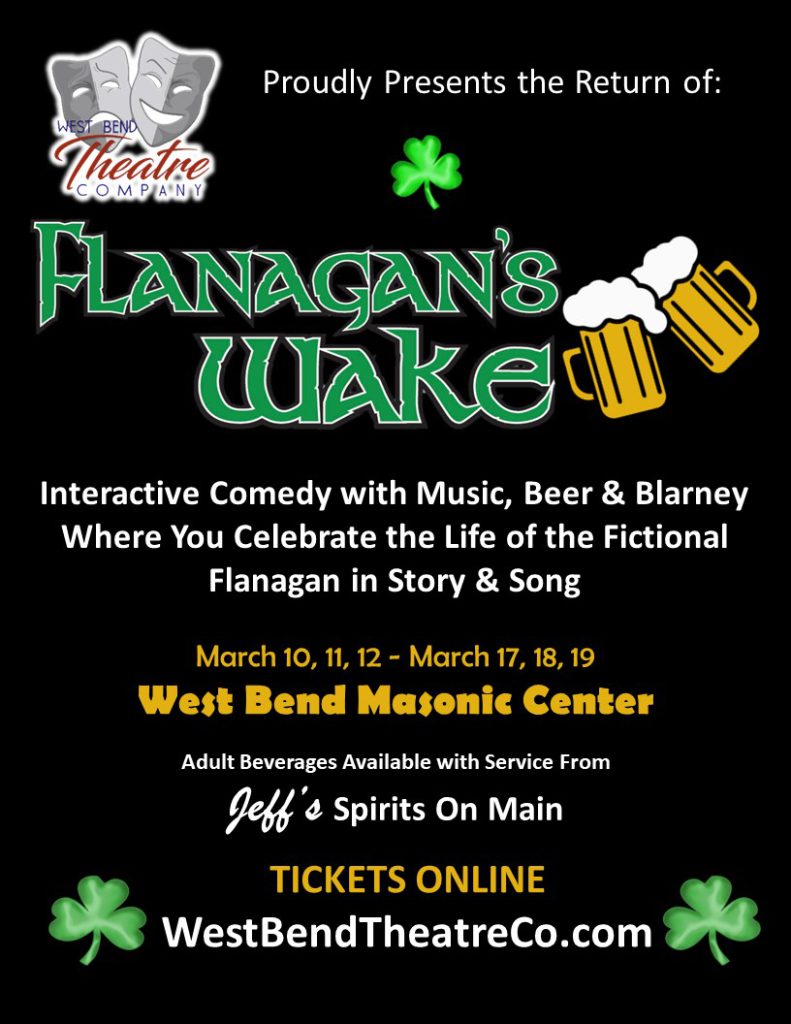 This is a returning performance series, and the 2023 production is in the final days of light-hearted, silly and fun-filled rehearsals.
Click HERE to SUBSCRIBE to FREE local news at
"Flanagan's Wake" was created by original members of Chicago's Second City comedy troupe and Noble Fool Theatres. Those actors often went on to Saturday Night Live careers.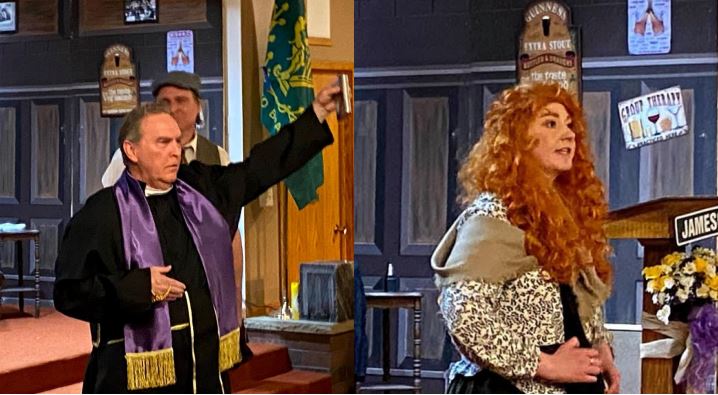 In West Bend, the show features live Irish Music, and décor befitting the Irish Pub setting. Live musicians include Janice Westphal on Piano, Therese Sizer on Flute, Chloe Bauer on Fiddle, and Joe Heger on Irish Button Box Accordion.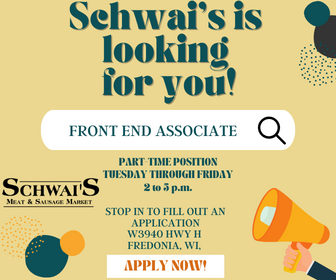 Familiar and fun Irish tunes will add to the fun and sometimes ridiculous tale told in "Flanagan's Wake." The cast has been coached on their Irish accents, so they are looking forward to a "bit o' Irish banter" with their "American cousins," meaning, with the audience. Even the program for the show takes on the Irish theme – it becomes a newspaper from
Flanagan's Hometown.
Click HERE for tickets
"Flanagan's Wake" is unique because it is interactive improv theater. The show depends on the wit and sassy input from its audience. From time to time, a cast member will ask for a suggestion from the audience, and the reply then takes the actor in a new direction.
The cast improvises the show based on the audience "recollections" of the life of the mythical Flanagan. It is assumed that everyone attending "Flanagan's Wake" is immediate or extended family, so you feel like you're part of the show.
In truth, the audience is vital, because the actors need the audience to help with their stories. The actors must work with whatever is suggested, (or may politely say, "No that couldn't be it.") Using many audience suggestions, the hilarity builds throughout the evening, and rises to a laughter filled end.
It's not just the story that uses audience suggestions, the music relies upon the audience too. Flanagan's favorite song is driven by audience input, and members of the audience are invited to sing along.
Directed by Robb Bessey, West Bend Theatre Company's Artistic Director, Bessey said, "You can help celebrate Flanagan's life and mourn his death with a few pints and plenty of tears – of laughter!"
Robb Bessey knows firsthand. He played the part of Flanagan's best friend, Brian Ballybunion in the company's 2020 production-run of "Flanagan's Wake" "I loved every minute of this show as a cast member, and rehearsals are an absolute hoot for me this time, as the director. Audiences will love it and this cast is better than ever. I promise you'll laugh."
On entering the performance space of the West Bend Masonic Center, patrons are checked in by an usher, and are given a "a piece of Irish gold" and a name tag so they can participate in the show. The "gold" can be redeemed for an Irish beverage. Tickets to "Flanagan's Wake" include one NA Beer.
Patrons are asked to sign the guest book and begin to meet the locals. The locals are the cast members. Included are the parish priest and friends and family of the deceased Flanagan.
In 2023, the cast happily announces the return of Mike Shelby as Father Damon Fitzgerald, Beth Reichart as Fiona Finn, Nichole Kivela as Kathleen Mooney. New faces include Terry Heller as Brian Ballybunion, Shaun Kempf as Mickey Finn, Steve Sizer as Mayor Martin O'Doul (the bartender) and John Sancomb as Mother.
West Bend Theatre Company is a 501(c)(3) nonprofit organization, founded in 2010. They are known for presenting West Bend's production of "A Christmas Carol" and will be presenting "Calendar Girls" in May of 2023 to help Chix 4 A Cause, a local charity supporting cancer patients. Performances of "Flanagan's Wake" are March 10, 11, 17 and 18 at 7:30 p.m., and March 11, 12, 18, 19 at 2 p.m. at the West Bend Masonic
Center. The facility is wheelchair and walker accessible. All tickets are sold at WestBendTheatreCo.com/Shows.
Tickets may be sold at the door if seats remain. Seating is very limited. Premium seats include a table for the show and the first NA Beer. General admission seats include the same beer, but patrons must hold their beer all night as they are seated "in the pews," (with no table.) Beers can be "upgraded" with a donation to the Theatre Company, made at the bar. Questions can be answered at 262-305-9613.