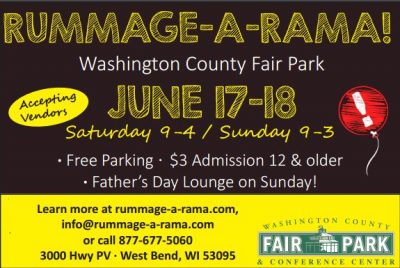 Washington Co., WI – Check out Rummage-A-Rama at the Washington County Fair Park on June 17 – 18. Shop over 100 vendors for home goods, antique and vintage furniture, clothing, toys, games, vinyl records, nostalgic finds, and much more.
This is a flea market combined with a craft fairs that offers an eclectic mix of shabby chic, outlet mall, deals, discounts, and treasures galore.
Saturday, June 17 9 a.m. – 4 p.m.
Sunday, June 18 9 a.m. – 3 p.m.
Admission: $3 per person
Kids 12 & under are FREE!
Vendor space available!
Rummage A Rama. Free Parking. $3 admission for 12 and older. Special Dad's promotion on Sunday.