Kewaskum, WI – When is a difficult decision a blessing? When the decision benefits two students instead of one.
In an unprecedented move, the 3rd annual Don and Corrine Mlodzik Family Scholarship will be awarded to both Joshua Kertscher and Autumn Berndt, soon to be 2022 graduates of Kewaskum High School.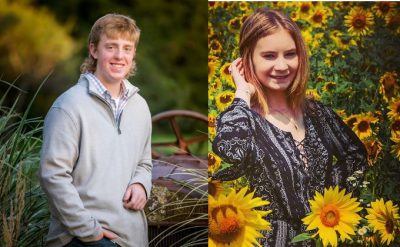 "The debate between the merits of finalists Autumn and Joshua really engaged our family," said Gary Mlodzik. "Both supplied strong references, insightful answers to the application questions and passion for their career choices."
Autumn Berndt is enrolling in the Nursing Program at MPTC-WB. Berndt discovered her passion by caring for her grandma since the age of 12.
"I want to be that nurse who is there for her patients when they need help. The nurse who shows kindness and compassion," said Berndt. "The one who will help comfort those who feel they are too weak or tired but most of all, the nurse who cares."
Kayla Mlodzik wished Autumn sincere wishes along the nursing path "because the world needs more passionate health care professionals."
Joshua Kertscher will be studying Electricity at MPTC-WB. Kertscher plans to pursue the ABC Construction Electrician Apprenticeship.
Why be an electrician? Kertscher wrote on his scholarship application: "The demand for professional electricians is higher than ever before. I enjoy working with my hands, I'm a problem solver, and I like to also challenge myself. The electrical field is very challenging."
Kody Mlodzik was impressed by Joshua. "Working a job at a young age, saving money for school, graduating high school early and working towards an apprenticeship is a lot of hard work to even start a career."
After careful consideration of both applicants, Tina Mlodzik said it best, "It would be a disservice to the community of Kewaskum if we don't fund scholarships for both of these worthwhile candidates so they can develop their knowledge and work towards careers that fulfill their passions."
The Mlodzik family offers their congratulations to both Autumn Berndt and Joshua Kertscher and wishes them well on their educational and career journeys.
About the Don & Corrine Mlodzik Family Scholarship:
The Don and Corrine Mlodzik Family Scholarship was created to help Kewaskum High School graduates interested in attending Moraine Park Technical College in West Bend. Don and Corrine always believed MPTC offered a great value in education while providing hands on experience in many programs which lead directly to employment. The recipient of the scholarship is required to complete 40 hours of volunteer work within the Village of Kewaskum per award year. This aspect of the scholarship is designed to stress the importance of giving back to the community.