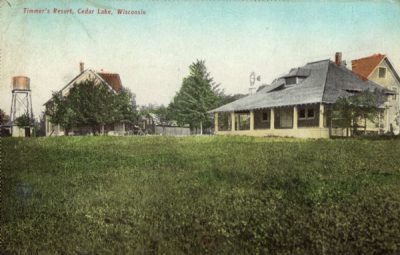 Dec. 1, 2018 – Big Cedar Lake, WI – In 2015 Barbara Johnson published a book about Timmer's Resort.
'Timmer's Resort at Big Cedar Lake …a journey through time.'
The hardcover coffee table book is filled with black-and-white photos and facinating nuggets about the Timmer family, the cozy resort, and the historic atmosphere.
Johnson wrote the book following a request from George and Judi Prescott. Johnson's preface to the book is below.
Over the next few years while the Prescotts worked to respectfully restore and preserve the legacy of lakefront hospitality the Timmers had established over the previous 144 years I kept an interested eye on the changes being made at the Timmer Resort.

I was so impressed with the work George and Judi had done to the property. They somehow managed to create a beautifully new and modern restaurant and resort property that retains and embraces all the charm and history that Timmer's Resort on Big Cedar Lake is known for.

I felt an overwhelming sense of relief and satisfaction that this piece of lake history had been so thoroughly saved.

As part of their continued effort and desire to capture and retain the history of the restaurant and resort George and Judi contacted me in the summer of 2014 to discuss the idea of putting together some sort of Timmer's Resort history.

"I can't really describe what it is I want," said George. "But I'll know it when I see it."

With that we are off on our quest to document the historic landmark that is Timmer's Resort.
'Timmer's Resort at Big Cedar Lake…A Journey Through Time' can be purchased at GPMS, 2412 W Washington St, West Bend (cash or check). Also at Timmer's Resort or email Barbara Johnson at [email protected]
The book sells for $28.40 + tax for an even $30.