West Bend, WI – The Kettle Moraine Symphony performs America! A Concert Dedicated to Veterans – Sunday, November 3 at 3 p.m. at The Silver Lining Arts Center, West Bend High School.
Robert Lowden: "Armed Forces Salute"
Gershwin: "An American in Paris"
Dvořák: Symphony No. 9 "From the New World"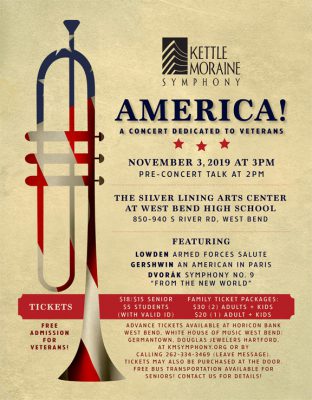 In 2018 Washington County Judge Andrew Gonring narrated Copland's Lincoln Portrait and Turrin's Civil War Suite. Milwaukee Symphony cellist, Madeleine Kabat, performed Elgar's WWII-influenced Cello Concerto in E minor, and guest principal violinist, Elizabeth Zempel, soloed on Three Pieces from Schindler's List. American Legion Post 486 served as Color Guard.