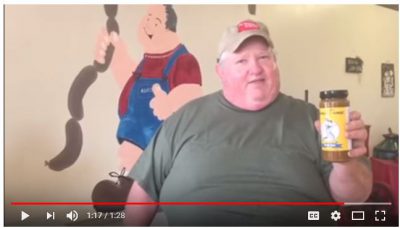 May 28, 2018 – West Bend, WI – Tommy Schwai will have a special guest at his booth during the June 2 West Bend Farmers' Market as legendary Milwaukee Brewer Gorman Thomas will be on hand.
Thomas came up with the mustard sauce in 2015. He's part of the National Mustard Museum in Middleton, WI.
Tommy said Thomas will only sign autographs if you buy a jar of his mustard sauce "which is good on everything."
The Downtown West Bend Farmers' Market is Saturday from 7:30 a.m. – 11 a.m. on Main Street in downtown West Bend.