Oct. 18, 2018 – West Bend, WI –  Pastor Cristy Schoob of Trinity Lutheran is pairing up with one of her parishioners, sophomore Joscelynne Clark, in Dancing with our Stars. Here's their video as they practice to compete Saturday evening at the high school theater.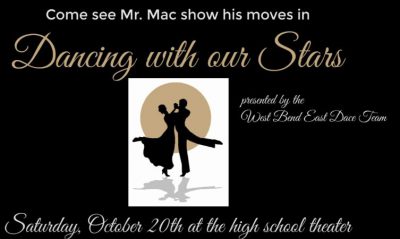 This take-off on the TV show pairs 10 high school dancers with 10 local celebrities in a dance-off.
It's a fundraiser for the West Bend East Dance Team, and a lot of fun.
Will Pastor Schoob win the coveted mirror ball trophy?
Catch her showing her moves at the West Bend High School theater this Saturday, and find out.
Tickets are available on EventBrite and at the school box office.