May 10, 2019 – Germantown, WI – There's a new independent restaurant opening in the next couple months in Germantown. It's an old-school location with a unique twist and a recognizable owner.
Jodi Janisse-Kanzenbach is the genius behind a new eatery called The Precinct. It will be in the old Germantown Police Station on Church Street, just around the corner from Barley Pop Pub, N116 W16137 Main Street.
The old PD is being transformed with a 1940's bar from a tavern up north, a wall of graffiti, an open-concept kitchen, garage doors for European flare and a menu that stays true to the farming heritage of Germantown.
"The plan has been in the process for nearly two year," said Janisse-Kanzenbach . "It really came to fruition last year when we bought into the Barley Pop and it's been under lock and key since."
There were several goals Janisse-Kanzenbach   listed as she detailed closing Café Soeurette in downtown West Bend and opening a new venture.
"This was part of the plan to get our own building, being able to build a concept we wanted and getting out from underground," she said. "Within the next two to three months Café Soeurette will close and shortly thereafter The Precinct will open."
The Precinct has amenities attractive to Janisse-Kanzenbach  . "We actually have a parking lot, we're ADA accessible, we were able to design the whole building taking it down to the studs and build it back exactly how we wanted."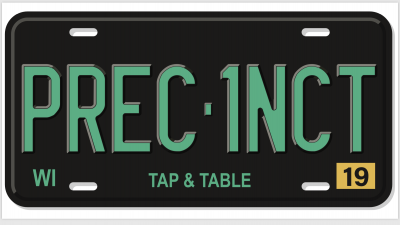 Like Café Soeurette, Janisse-Kanzenbach  is working toward an open-kitchen concept. "We always had such a personal relationship with our customers at the Café and we wanted to carry that on," she said. "I liked talking to the customers and with the window in the kitchen at Café Soeurette people could see who was cooking and they'd know where their food was coming from and that is important to me."
As far as the location, Janisse-Kanzenbach  said she did her homework. "When I opened Café I was young, 28 years old, and I hopped on the first thing that became available. This time I wanted to do my research with demographics and make sure it made even more sense," she said.
"I wanted to find an area that made sense and my business partner Deb Reinbold owned this building and it was the last one I looked at and it really made sense. At first I looked at it and there were 15 rooms and I didn't see it at all and then my husband Cory went through, he's normally the pessimist, and he said I had to just look at it as an open shell; I was shocked he was on board with it.
Then it became this transition of buying into the Barley Pop and these properties. I've joked with customers it's kind of the next step of me growing up as an adult. I feel a little adult these days," she said.
The location across the street from Janisse-Kanzenbach's other venture, Barley Pop Pub, makes sense to her… even if it's not clear to others.
"It's two completely different concepts," she said.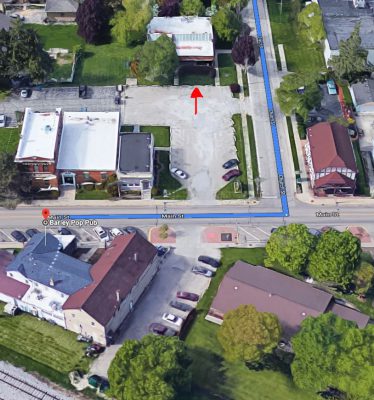 Barley Pop Pub has more of a sports bar atmosphere. "I think people will embrace The Precinct," said Janisse-Kanzenbach. "It'll be similar to what we do at Café with supporting local farmers. We're still working on the menu, but it'll change quarterly, and we'll do lunch on Friday and Saturday, and we'll add a one-a-month brunch with an a 'la carte eggs benedict and bloody Mary's.  It's very different than what's happening at the Barley Pop."
Staff is completely supportive of the idea. "I have staff that's been behind me for so long," she said. "I've been honest from the start, but they'll be happy they can finally let the cat out of the bag."
Aside from the open-kitchen concept and garage doors for added light, Janisse-Kanzenbach will bring in an old-school bar that her husband found on Craig's List.
"We've had the bar over a year and a half. It's an 18-foot back bar, front bar with an art-deco look and it was in amazing shape and we drove up near Marinette and hauled this bar back to West Bend and it's interesting," she said.
There was a treasure within the treasure as Janisse-Kanzenbach found something behind the mirror. "We took one of the mirrors off and there was a post office box number and combination probably from one of the owners," she said. "I'm going to frame it and put it on the wall."
Below is the official announcement about the new restaurant from Jodi Janisse-Kanzenbach
This morning I woke up to a picture of a new baby that was born from a friend and past employee. It put the biggest smile on my face.
Let's reminisce, this individual somehow found out nearly 12 years ago before it was public that I was going to be opening Café Soeurette and told me he would keep my secret as long as I made one promise that I let him be part of helping get me up and going! I was shocked and happily obliged.
Over the years he came and went as an employee but always one of my biggest cheerleader for the café, it's crew, West Bend and myself. He even asked me to assist in proposing to a lovely lady (also a long time customer) at Café and I was honored to help and witness it! Then came their rehearsal dinner about a year later also, at Café. About a week ago they stopped in to Café and I gave them a gift for the little one they were now expecting. We chatted for some time, catching up, talking about their bundle of joy to arrive. What an exciting time!! Over the years it has been an honor for all of us here at the Café to share in so many memorable events in peoples lives.
The conversation then turned to Café hosting some music for a local event this summer and I had to decline. I was sad but also happy to let this couple know what was in store for my family, staff, and my partners future!
Birth of a new baby brings so much joy and excitement but if you are a parent you know it also comes along with fear and question if you are doing the right thing daily.I have had all these emotions for quite some time now, but mostly joy and excitement! My staff, partners and I are excited to finally make this amazing news public!
We are in the process of remodeling a building for a new concept restaurant! We own the building and have gotten to design every single aspect to our own specifications, well besides the brick wall we ran into, literally, but hey when life throws you lemons make lemonade right.
I know you all reading this right now are probably like, What?? She has Café and Barley Pop and now a new restaurant is under construction is she crazy??? Guess I am a little bit crazy! But mostly crazy excited!!
Today I announce the Birth of Precinct, Tap & Table!