December 3, 2019 – West Bend, WI – The West Bend School District Committee of the Whole met Monday, Dec. 2. It reviewed the district's  current and future facilities.
Aside from reviewing replacement vs. repair costs, energy needs, transportation and the dynamics surrounding an operational referendum the board talked about the declining enrollment and how that will affect the West Bend High Schools in the coming years.
In
October 2019,
Superintendent Don Kirkegaard said, "unless there is a change in enrollment trends, the district can expect declining enrollment for the next 8-10 years."
Click
HERE
to see predicted enrollment trends, including numbers from the high schools which show a drop in enrollment from 2019 at 2,184 to 1,669 in 2028.
Board member Joel Ongert brought up Policy 188: Should the Board decide to further consider reconfiguration of the high schools, the Board must proceed to a non-binding referendum at the next Gubernatorial or Presidential election balloting. The next Presidential election is Nov. 3, 2020.
Policy 188 was put into place in 2015; it was the last time the district broached the subject of combining the two high schools.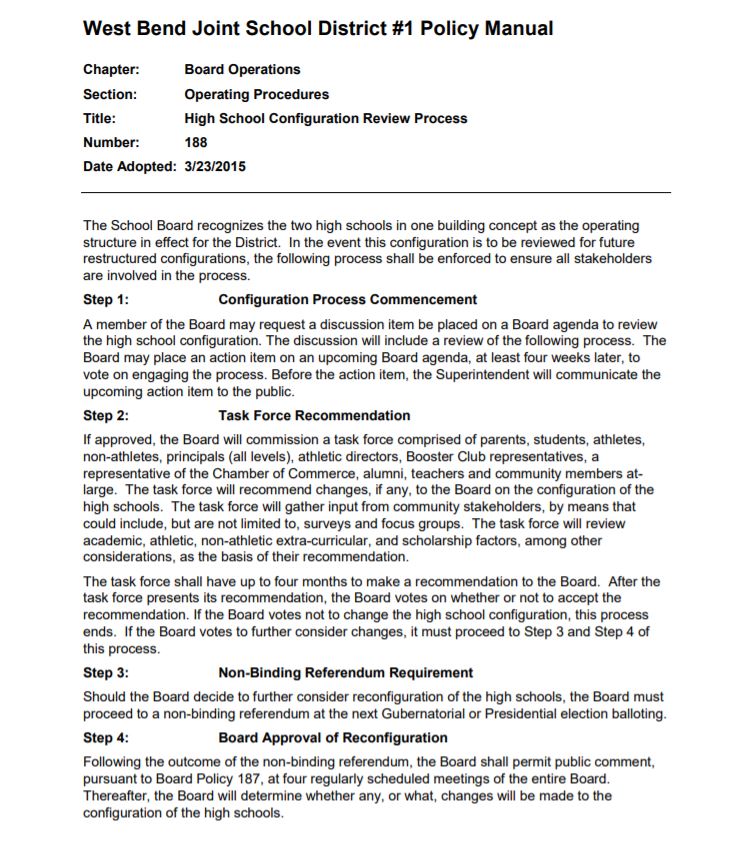 Joel Ongert – "The way this policy reads and all the steps, this could take potentially years…  So I think it's time we look at this policy. I'm not saying we totally eliminate it, I'm not saying that we … maybe not necessarily start from scratch. I think it's time we start looking at this policy, just in case in the future the declining enrollment numbers … It would be easier for us to close an elementary school than it would be to combine the two high schools."
Chris Zwygart – "It's worthy of at least examining. Prior boards, I understand at that time there was very interesting discussion and a lot of passion so I can understand the intent but I think we need to balance that with our current circumstances and …. to give ourselves the flexibility and options to do. So I'm supportive a review of it."
Ongert – "There's $45 million worth of work at the high school and we'd be remiss not to think about … if we were to get $45 million and talk about paint. Do we start painting everything blue and maroon again? Or do we start talking about maybe it's time we combine the two high schools and maybe that becomes part of a referendum question and you know we want to borrow $45 million and a separate advisory question is do you want us to combine the high schools."Tonnie Schmidt – "I agree to have the policy reviewed. We don't need to decide right now … but if we're going to spend a lot of money I would like to consider seeing it spent in such a way, say 10 years from now… we don't have to redo things."
Paul Fischer – "It's important we look at what the financial implications are. Would we go to one athletic director? Probably with that amount of students, probably not – it's an A.D. and an assistant. I came out in 2015 as a passionate supporter of two high schools. If enrollment continues to decline and we see more co-op teams,  we also need to consult Erin and Kevin to find out how quickly can we tell the WIAA that one of our schools no longer exists."
Don Kirkegaard – "It truly will be a lengthy process and this is a huge decision. We like this heritage – we don't throw this out just on a whim but you have to look at all the financial and enrollment data."
Ongert – "I find it interesting it would take a lot of time for us to combine the high schools following this policy versus closing an elementary school or some other major decision. I understand why the board put the policy in place at the time but that was a while ago."
Maintenance Shed:
One of the other topics of discussion included the district's maintenance shed.
The board made several references to the report presented by the West Bend School District Private Task Force. One of the findings by the Task Force involved a suggestion to create one central campus.
Construct one new school (783 capacity) at a south side location and expand Green Tree. Close/sell Jackson School, Jackson land, Decorah, Fair Park, District Offices, Rolfs & Maintenance. Develop a single central campus on the south side of West Bend.

Task Force member Kraig Sadownikow said, "As a district there are multiple campuses at wide geographical locations. That means maintaining and monitoring is difficult. This makes operating the district more expensive."
"Money is the solution to the problem – more money may not be."
"Finally – the capital maintenance budget is inadequate. It's underfunded. Can't consider a new investment in new facilities without considering how to maintain what we currently have. Building new while avoiding maintenance is a losing situation."

Director of Facilities Dave Ross talked about the maintenance building. "It's not in bad shape. The replacement cost would be $1.4 million with $176,000 worth of repairs that need to be done."

Joel Ongert – "Would we be saving a lot of money by closing the shop?"

DR – "We have a full-time custodian and a little maintenance but there's not a heck of a lot. All office partitions were donated to district. It doesn't cost a huge amount of money."

Joel Ongert – "Does it still serve the purpose of protecting our vehicles and doing maintenance in the shed."

Dave Ross – "Yes. Both functional buildings."

PF – "If implement the Task Force's recommendation to consolidate to a single campus you may reduce some level of custodial service but you're going to need custodial services for the rest of that facility so at the end of the day maybe it's a net reduction – maybe half or 20 hours a week. It's marginal I guess. It's not that far out of line to be enticing to do the consolidation model."
The meeting wrapped up with Superintendent Kirkegaard talking about the timing of an upcoming referendum.
"I'd suggest we put to rest that there will be no referendum in April. We need to know that by January. There's just no way possible we're ready for a referendum in April. Earliest I could see is November 2020, but we have a lot of work to do before that."