Why People Die by Suicide – Annual Suicide Prevention Education Forum. By Deeatra Kajfosz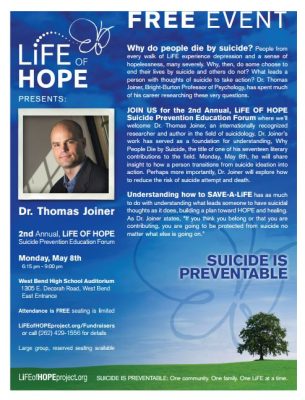 April 22, 2017 – West Bend, WI – Life of Hope will host a free event to educate individuals in Southeastern Wisconsin on how to save a life.
Dr. Thomas Joiner, Bright-Burton Professor of Psychology, has spent much of his career researching questions such as, "Why do people die by suicide?"
Dr. Joiner will share insights on how a person transitions from suicide ideation into action. They will also learn how to reduce the risk of suicide attempt and death.
Dr. Joiner has been the recipient of numerous awards, authored over 515 peer-review publications, and contributed to the fields of psychology, neurobiology, and the treatment of suicidal behavior and related conditions. He is also the Robert O. Lawton Distinguished Professor in the Department of Psychology at Florida State University.
Understanding how to SAVE-A-LiFE has as much to do with understanding what leads someone to have suicidal thoughts as it does, building a plan toward HOPE and healing.
WHERE: West Bend High School Auditorium – 1305 E. Decorah Road, West Bend
WHEN: Monday, May 8  |  6:15 p.m. – 9 p.m.
WHAT: Doors open and Community Resources* available to all attendees | 6:15pm – 7:00pm
Dr. Joiner program starts | 7 p.m. – 8 p.m.
Q & A starts | 8 p.m. – 8:30 p.m.
Meet & Greet | 8:30 p.m. – 9 p.m.
Admission is free, but seating is limited.
Reserved seating may be available for large groups by calling Life of Hope at 262.429.1556.
For more information visit LiFEofHOPEproject.org.