Wisconsin Petroglyphs is Thursday, Oct. 26 at 7 p.m. at the Richfield Fire Hall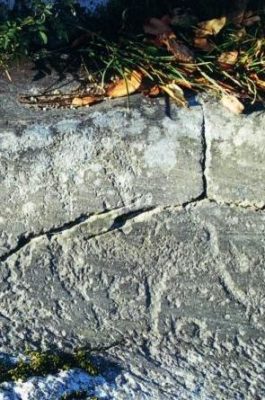 Oct. 17, 2017 – Richfield, WI – The Richfield Historical Society invites you to "Wisconsin Petroglyphs" by Dale Van Holten, on Thursday, Oct. 26 at 7 p.m., at the Richfield Fire Hall, 2008 State Road 175, Richfield.
This presentation will introduce you to petroglyphs discovered in Waterloo, Wisconsin.  Admission to the program is free and open to the Richfield Historical Society Members and the general public.
Dale Van Holten, assistant to Dr. Jack Steinbring, Archeologist and Anthropologist at Ripon College, is in charge of the ongoing Hensler Petroglyph Site discoveries in Waterloo, Wisconsin at the privately owned Michael's Quarry.
Tedious digging, sifting, and carbon testing at the site have brought to life century old artifacts that tell a story of early Native American life.
The quartzite bedrock of the quarry contains artifacts (a panel of 33) that were created by people living 10,000 to 12,000 years ago. These artifacts are known as "petroglyphs," and are crude story symbols of such things as mammals and birds that provide us today a view of forms expressed by Native American people who first called this land home.
The site was placed on the National Register of Historic Places in 1991.
For more information on how to become a member of the Richfield Historical Society and information about the General Meeting Program series and all RHS events, visit our website www.richfieldhistoricalsociety.org and stay connected to us on Facebook and Twitter.
Funds raised at all Richfield Historical Society events support the Society's educational programs and maintenance of the Richfield Historical Park.
The mission of the Richfield Historical Society, a 501c3 non-profit corporation, is to discover, collect, preserve and promote the history of the Village of Richfield.