West Bend, WI – The Museum of Wisconsin Art (MOWA), 205 Veterans Avenue, West Bend, WI presents The Art of Color, a museum debut exhibition of Milwaukee-area artist Marion Coffey (1924–2011) a decade after her death. The exhibition showcases nearly 40 works by Coffey, many of which are on public view for the first time.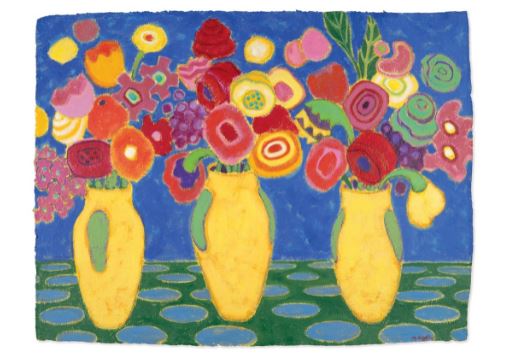 The exhibition is on view May 7–July 10, 2022. An opening reception will be held on Saturday, May 7, 2:00–4:00.
MOWA director and curator for exhibition Laurie Winters worked closely with the artist's daughter, Lisa Coffey Robbins, to reconstruct her mother's life and work for the exhibition. Winters stated that "there are occasionally artists who work quietly their entire life without critical recognition or acclaim. Thanks to the commitment and perseverance of her daughter and family, MOWA is delighted to offer Marion Coffey the critical acclaim she wholeheartedly deserves in her debut exhibition at a museum."
Over a seven-decade career, Coffey created an impressive body of rich, dazzling paintings in acrylic and oil on both canvas and large sheets of paper torn by hand. Coffey translated her experiences as a pioneering female commercial artist in Chicago and later in Milwaukee into a sophisticated vision that was imbued with a deep understanding of European and American precedents mastering the simple pleasures—from bouquets of vibrant tulips to lavender-covered fields of southern France. Her brilliantly hued paintings are wonderfully affirmative, expressing a joy in seeing and being that she wanted to share. She was deeply influenced by the French Fauve painters and the German Expressionists: as it was for them, color became her chief means of capturing a subject but also communicating what is feels like as much as what it looks like.
The art of Marion Coffey has been represented by the Tory Folliard Gallery since 1991. To learn more about the artist, visit marioncoffeyart.com
MOWA's 2022 exhibitions are supported in part by James and Karen Hyde, Pick Heaters, and a grant from the Wisconsin Arts Board with funds from the State of Wisconsin and the National Endowment for the Arts.
The Museum of Wisconsin Art in West Bend is open Wednesday through Sunday, 9:30–4:00.
Admission as low as $15 provides unlimited visits for one full year.