West Bend – Cedar Community is pleased to announce that its marketing team is the recipient of a national Aster Award for healthcare marketing and advertising for 2023–winning a Silver award and placing in the top 12 percent in the nation.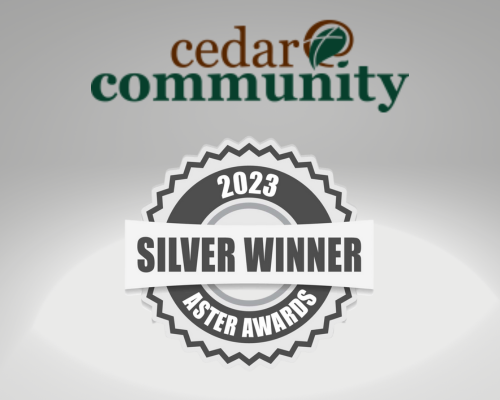 "Cedar Community is honored to be recognized in marketing and advertising in one of the largest and most respected national/international competitions of its kind. To be recognized is truly an honor and testament to the hard work and dedication of our marketing team," says Sarah Malchow, chief administrative officer.
This year's awards announcement marks the fifth Aster Award for Cedar Community's Live More magazine. Live More is published quarterly, and is entirely written, edited, and designed by Managing Editor Carrie Sturn, Creative Director Cyndi Frohmader, and Executive Editor Sarah Malchow.
The Aster Awards is an elite program recognizing outstanding healthcare professionals for excellence in their advertising and marketing efforts for over 20 years.
The 2023 Aster Awards received entries from across the entire United States as well as abroad. All entries are reviewed by a panel of industry experts and are scored on multiple criteria with a possibility of 100 percent. Participants' entries compete against similar-sized organizations in their specific groups and categories.
Judging criteria included creativity, layout and design, functionality, message effectiveness, production quality, and overall appeal and execution.
"Many agencies and organizations continued to step up and offered incredible communications that were both informative and creative. Our hats off to everyone for amazing entries," said Melinda Lucas, Aster Awards Program Coordinator.
All winners are currently posted on the Aster Awards website HERE.