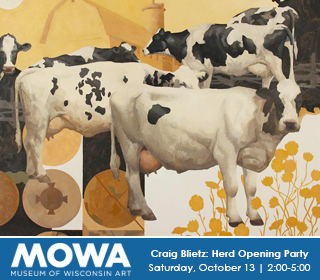 Oct. 7, 2018 – West Bend, WI – Wisconsin artist Craig Blietz is bringing his first solo exhibition to the Museum of Wisconsin Art in West Bend.
Created specifically for MOWA's whitecube gallery, Blietz's heroic cow parade, a new body of work of 23 large-scale paintings that depict his beloved cows, is the perfect marriage between barnyard chic and SoHo hip.
As seen in Helianthus, Blietz places his impeccably drawn cows front and center, allowing them to float in a depthless background of muted agrarian symbols, such as sunflowers, corn stalks, and barns.
The abstract designs of his cowhides read like boldly patterned canvases within canvases. The resulting scenes—part Barbizon School, part psychedelic, part Robert Motherwell—are a unique contribution to American art and deserve attention beyond the Midwest.
Opening Party 
Saturday, October 13 | 2:00–5:00 
Meet Craig Blietz and enjoy art making in the studio, live music, light bights, and a cash bar.
Free with Membership | Walk-ins Welcome
Artist Talk 
Saturday, November 3 | 2:00–3:00 
Craig Blietz talks cattle, culture, and craft.
Free with Membership | Walk-ins Welcome
Conversations with Craig 
Saturday, December 1 | 2:00–5:00 
Drop by the Hyde Gallery to meet Craig Blietz. Plus, purchase your copy of the exhibition catalogue during the Champagne Shopping Party in the MOWA Shop and get it signed.
Free with Membership | Walk-ins Welcome
Drawing Cattle with Craig Blietz
Saturday, December 8 | 10:30–3:00 
Door County artist Craig Blietz will teach you techniques that influence the construction of a convincing drawing.
$80 with Membership