West Bend, WI – In an effort to recognize academic achievement, personal growth and dedication to Christian values Holy Angels School in West Bend, WI highlights three students of the month for December 2022 including 6th Grade:
Jadyn Assmann, 7th Grade:  Meghan Nagel, and 8th Grade: Melanie Sopkowicz-Fischer.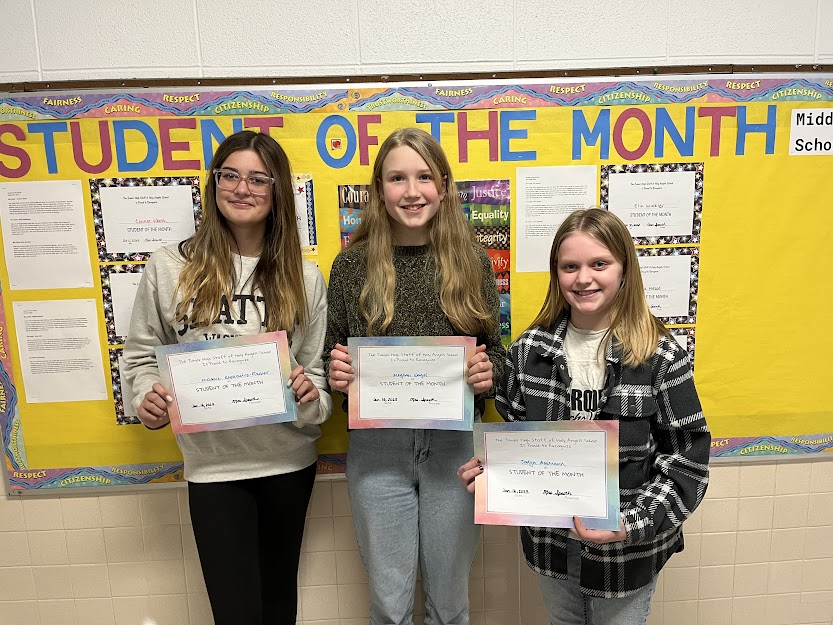 6th Grade at Holy Angels School:  Jadyn Assmann – Happy, positive and upbeat are the adjectives most commonly used to describe Jadyn. On top of her sunny disposition, Jadyn is also kind and helpful. She seems to look for people in need and then offer help. As a student, Jadyn is responsible, organized and prepared. She turns in quality work and is productive in groups. At heart, Jadyn is a farm girl.  She loves cows and shows them as well as pigs at the Ozaukee County Fair. It is no surprise that she wants to grow up to be a large animal veterinarian.
Where children grow in faith, knowledge, values, and respect.
7th Grade at Holy Angels School:  Meghan Nagel – Meghan is one of those students that seems to fly under the radar. In spite of consistently working hard, and turning in good work, she doesn't always get the recognition she deserves.  So here's some recognition for a nice girl who gets along with everyone and always contributes in a positive way during class. Meghan's teachers note that she is willing to put in the work even when she isn't successful right away, and can be counted on to keep a group on task. Meghan enjoys reading and drawing, and she wants to be a lawyer when she grows up.
8th Grade at Holy Angels School:  Melanie Sopkowicz-Fischer – Melanie is a strong presence in a big class. She can be heard asking questions, making suggestions and teasing others. In these years of standards based grading, she has taken responsibility for making sure she has achieved proficiency even if she has to come in for extra help and re-do assignments several times. This tenacity will serve her well whether she chooses to be a lawyer or pediatrician. (She is considering both professions.)  She is an organizer and someone who will always offer to help. She takes part in a variety of school activities including volleyball, chimes and patrols. Melanie enjoys fishing with her dad and watching TV while she hangs out with her friends.