Jumping back into Jazzercise | By Stefanie Kowaleski
Washington Co., WI – We have been back in our studios for exactly one month!  In just four weeks, my jeans fit better, my arms feel stronger, and my mood is most definitely happier!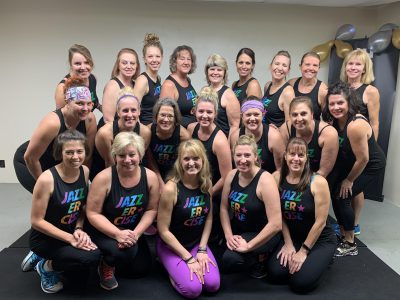 As our members continue to make their way back to our classes, I am overwhelmed by their comments:
 "I missed Jazzercise so much!"
 "I missed the music!"
 "I missed the instructors!  Even though we danced with them on Facebook Live, I feel like my workout is so much better now!  I work harder.  They push me more!"
 "I missed all the friendly faces.  I didn't realize what a supportive community this was until it was gone."
 "I just missed this.  Things finally feel normal again."
We are up and running all of our regular class times, 58 classes a week in 4 locations!  We have set up sanitation stations for our customers to use and have marked the floor off to keep everyone a safe 6 feet apart.  We're also offering 11 classes a week on our closed Facebook page for those who aren't quite ready to come back to class.
We're back dancing!  And we are LOVING it!
We're offering a BRAND NEW SUMMER SPECIAL!!!  Hit us up at Jazzercise.com and join for just $89 for the rest of the summer (July 1 – August 31) or try us for 10 days for $39!
We'd love to dance with you!