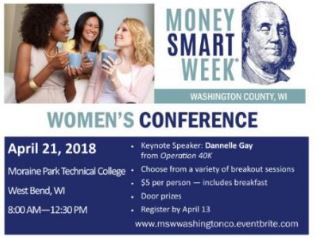 West Bend, WI – Banks, businesses, schools, libraries and many others are joining together to help support financial education during Money Smart Week – April 21 through the 28. In Washington County, educational programs are available to the public on all facets of financial education, including:
Registration Deadline for the Women's Conference is Friday, April 13. Registration is through Eventbrite: https://www.eventbrite.com/e/money-smart-week-washington-county-womens-conference-tickets-42726771925?aff=efbeventtix
Women's Financial Conference "Be Inspired"
The Washington County Money Smart Week Planning Committee is hosting the third annual financial conference specifically geared toward the unique financial needs of women. The conference takes place at Moraine Park Technical College in West Bend on Saturday, April 21 from 8 a.m. to 12:30 p.m.
Keynote speaker is Dannelle Gay, author of the popular blog Operation $40k documenting her family's journey to save $40,000 in less than a year! Now, she helps others save where they can, so they can splurge where they want.
Following the keynote presentation, participants create their own agenda by choosing 3 sessions from a variety of topics offered, including Budgeting, Cutting the Cable, Retire Confidently, Identity Theft Protection, Virtual Protection, Extreme Couponing, The Impact of Healthy Credit, Money Smart Meal Planning, and Renovating to Sell. Continental breakfast and door prizes will be provided…all for only $5! Pre-registration is required by April 13 and can be done online at https://bit.ly/2FREP0Y  or by calling UW-Extension Washington County at 262-335-4479.
The Big Read
Young children are welcome to join the financial festivities for The Big Read. Story time at area libraries will focus on a book with a money concept, and participating families each receive a copy of "Those Shoes" by Maribeth Boelts to take home. What a great way to introduce a child to the world of financial literacy!
The Hartford Public Library hosts The Big Read on

April 25 at 10:30am

The Germantown Community Library offers The Big Read on

April 24 & 25

at

10:30am.

The West Bend Public Library will host on

April 24 and 25

at

10am

, with an evening option on

April 26 at 6:30pm.

The Kewaskum Public Library hosts the Big Read on

April 25 at 10:30am and 6:15pm.

The Slinger Public Library will host on

April 25 at 9:00am

, and

April 26 at 6:30pm.
Money Smart Week is a public awareness campaign to promote financial education across all age groups. Launched in 2002 by the Federal Reserve Bank of Chicago, the program is now active in all 50 states through national partnerships with the Certified Financial Planner Board of Standards, Consumer Financial Protection Bureau and USDA (United States Department of Agriculture) Cooperative Extension and the American Library Association. Money Smart Week events are open to the public at businesses, financial institutions, schools, libraries, nonprofits and government agencies throughout the country on topics including kids and money, unemployment, managing student debt and retirement. To learn more about Money Smart Week® visit Money Smart Week – Washington County or  www.moneysmartweek.org
Carol Bralich is the Washington County UW-Extension Family Living Educator; visit http://washington.uwex.edu