West Bend, WI –The Museum of Wisconsin Art (MOWA) presents Magic Wilderness: Dreamscapes of the Forest featuring 16 artists who celebrate the Wisconsin wilderness in all its rebellious, bewitching glory. The exhibition will be on view October
22, 2022–January 15, 2023. An opening reception with the exhibiting artists will be held
Saturday, October 22, 2 p.m. – 4 p.m.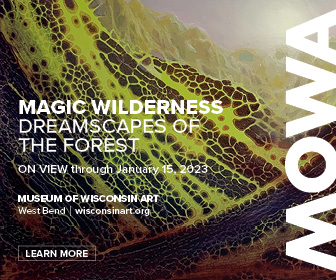 A robust schedule of programming accompanies the exhibition and may be found below.
Installed as an imagined ecosystem, the exhibition pays homage to the opposites that co-exist in nature. The lyrical and the weird, the magical and the mathematical, as well as the micro and the macro are in evidence across paintings, sculptures, photographs, and mixed media.
Click HERE to SUBSCRIBE to FREE local news at
Highlights include an extraordinary, immense mural by longtime University of
Wisconsin–Milwaukee professor John Colt. The 22 ½ x 8 ½ ft. canvas was commissioned in 1958 to honor Rev. John J. Walsh, who put Marquette University's theater program on the map. Not seen by the public in decades, Colt's mural is an evocative composition of variations on themes drawn from natural forms.
The leaf of the wild mandrake is a recurring motif, rendered in Colt's mid-century palette of ethereal orange, green, yellow, and black. In 2021, the Kohler Foundation and Colt's widow, Ruth Kjaer, gifted the painting to the Museum of Wisconsin Art where it is now part of the permanent collection.
Several works by celebrated painter Tom Uttech are also featured, including the surreal diptych included in the 1975 Whitney Biennial, which emphatically announced Uttech's arrival on the national stage. Also on view is Mid-Summer Night's Dream, a spectral scene depicting the encounter of a woman-deer hybrid and a musk ox, a woolly breed native to the arctic tundra.
Additional works by Jacob Bautista, Theodore Czebotar, Kyoung Ae Cho, Maureen Fritchen, Kevin Giese, Mary Hood, Andrew Khitsun, Gloriann Langva, Barbara Manger, Shane McAdams, Cassandra Smith, Fred Stonehouse, Brooke Thiele, and Eugene Von Bruenchenhein create an immersive forest setting worthy of Grimm's Fairy Tales.
This exhibition is supported by 2022 exhibition sponsors James and Karen Hyde, Greater
Milwaukee Foundation, Pick Heaters Inc., RDK Foundation, Thomas J. Rolfs Family Foundation, and a grant from the Wisconsin Arts Board.
The Museum of Wisconsin Art in West Bend is open Wednesday through Sunday, 9:30 a.m. – 4 p.m.
Admission as low as $15 provides unlimited visits for one full year.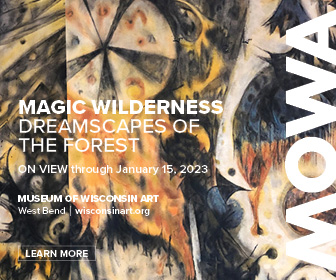 EXHIBITION ACTIVITIES
Exhibition Opening Party
Saturday, October 22 | 2:00–4:00
Celebrate the opening and meet the artists
of the exhibition. Enjoy light bites, a cash
bar, and live music by Microcosm.
Talk: Fantastic Fungi
Saturday, November 19 | 2:00–3:00
Glen Stanosz, University of
Wisconsin–Madison Professor of Tree and
Forest Health will talk about the diverse and
highly evolved organisms that are critical to
the function of forest ecosystems.
Talk: Aldo Leopold—Natural Soundscapes and Spirit of Place
Saturday, December 17 | 2:00–3:00
University of Wisconsin –Madison retired professor Stan Temple will explore Aldo Leopold's
fascination with natural sounds, introduce the new field of soundscape ecology, and share his detailed recreation of the dawn chorus of birds that Leopold meticulously documented at his beloved shack in 1940.
Talk: Wisconsin's Magic Realism
Saturday, January 14, 2023 | 2:00–3:00
Curator of Paintings at the Minneapolis Institute of Art, Robert Cozzolino, PhD discusses canonical Wisconsin Magic Realism painters such as Tom Uttech, John Colt, and Theodore Czebotar, and how their careers may have intertwined.