West Bend, WI – A free outdoor live arts festival returns to West Bend for its fourth annual two-day event. Presented by the Museum of Wisconsin Art, Art & Chalk Fest takes place Saturday, August 21 and Sunday, August 22.
The museum welcomed more than 20,000 visitors to the festival in 2019.
Each year the museum transforms its parking lot into a canvas for chalk artists to create their ephemeral masterpieces, many of which are interactive and offer a three-dimensional illusion. This year visitors can experience more live arts than ever before with new live art demonstrations in a variety of art mediums including pottery, glass blowing, plein air painting, henna tattoos, tintype portraiture, flower sculpture, and more.
An expanded musical lineup fills the grounds with music all weekend long and includes two free evening concerts in the spectacularly landscaped MOWA Gardens with Milwaukee-based Dead Horses and Appleton-based Cory Chisel. Musical acts performing throughout the weekend include Nineteen Thirteen, Arum Rae, Evan Christian, TAE, Little Miss Ann, and the Lead Bottom Band.
"We're especially excited about Art & Chalk Fest 2021 after the disappointment of having to cancel the event in 2020," said MOWA Executive Director | CEO Laurie Winters. "This year we've expanded the live arts experience with art demonstrations of all types and added more live music so people can spend more time enjoying our gorgeous four-acre campus and exploring the vibrant city of West Bend throughout the weekend."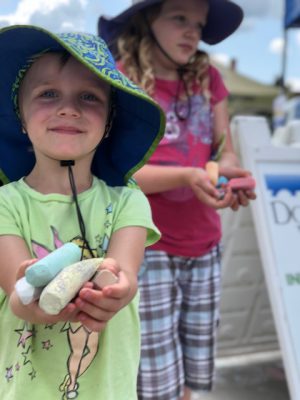 Art activities for all ages are offered throughout the weekend, including chalk drawing on Veterans Avenue, art projects, balloon sculpture, and more. Visitors are encouraged to stay the weekend enjoying good eats by local food trucks and a beer garden featuring a selection of Lakefront Brewery beer.
Visitors can cool off inside the museum with free admission for the entire weekend of Art & Chalk Fest. The summer exhibition Claiming Space: A New Century of Visionary Women showcases nearly thirty contemporary Wisconsin artists who contributed deeply personal works in a variety of mediums that touch on themes of motherhood, family, the body, hair, daily routines, and the mystical, intuitive side of femininity.
Find full event details at artchalkfest.com or search #artchalkfest on social media.
EVENT AND MUSIC SCHEDULE
Saturday, August 21
10:00–5:00 | Festival and Museum open
10:00–11:00 | Little Miss Ann Kids Concert
12:00–1:00 | Nineteen Thirteen
2:00–3:00 | Arum Rae
6:00–7:00 | Dead Horses
8:00–9:00 | Cory Chisel
Sunday, August 22
10:00–4:00 | Festival and Museum open
11:00–12:00 | TAE
1:00–2:00 | Evan Christian
3:00–4:00 | Lead Bottom Band
EVENT SPONSORS
Special thanks to the following event sponsors for their generous support in keeping this event free and open to the public: Travel Wisconsin, Horicon Bank, Pick Heaters, Thomas J. Rolfs Family Foundation, and Sommer's Automotive.
ABOUT THE MUSEUM OF WISCONSIN ART
Celebrating its 60th anniversary, the Museum of Wisconsin Art is a vital cultural center, educational institution, and an expanding network of ideas, that collects and interprets American art through the lens of a single state. Informed by dynamic initiatives and collaborations, MOWA is an innovative forum for contemporary artists, socially relevant exhibitions, lectures by artists and industry experts, and engaging classes and activities for all ages. The museum's primary venue—the modernist "Mothership"—rests along the Milwaukee River in downtown West Bend, drawing visitors and tourists from the far corners of the state. MOWA annually welcomes 200,000 visitors, making it a cultural destination for the art and artists of our time. Visit wisconsinart.org to learn more.