West Bend, WI – 2023 marks the 10th year of Museum of Wisconsin Art in its new building on Veterans Avenue. An official celebration will be held Saturday, April 8, 2023, just two days after the official opening date.
This is the first exhibition of the year and features 10 artists MOWA thinks will be the up-and-coming artists to watch.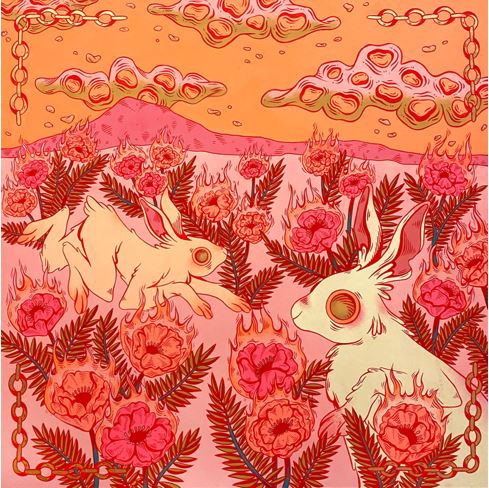 The Museum of Wisconsin Art (MOWA) presents Ten at Ten in its inaugural exhibition of 2023, which kicks off the tenth anniversary of MOWA's West Bend modernist Mothership. For this exhibition, MOWA's curatorial team selected ten artists in the early stages of their careers whose compelling work represents the next generation of artists to watch.
Click HERE to SUBSCRIBE to FREE local news at
The exhibition will be on view January 28–April 9, 2023. An opening reception with the exhibiting artists will be held on Saturday, January 28, 2:00–4:00.
"MOWA is delighted to introduce these talented up-and-coming artists to a wider audience," said Executive Director Laurie Winters. "We believe these are the artists to watch in 2023 and beyond. Expect great things from them over the next 10 years."
The Ten artists are Claire Kellesvig, Nykoli Koslow, Meg Lionel Murphy, Guzzo Pinc, Pranav Sood, Brennen Steines, Gabrielle Tesfaye, Johanna Winters, Lindsey Yeager, and Eduardo Zavala. Some are newly minted MFAs; others are showing work not previously exhibited.
Media range widely, from traditional materials such as oil on canvas and video installation to outré experiments with calcium carbonate and papier-mâché human appendages. Artist bios to follow.
This exhibition is supported by 2023 exhibition sponsors: The James and Karen Hyde Fund, Pick Heaters Inc., Thomas J. Rolfs Family Foundation, and a grant from the Wisconsin Arts Board.
The Museum of Wisconsin Art will be closed to the public for the exhibition changeover Monday, January 23–Friday, January 27. The museum will reopen on Saturday, January 28 at 9:30am. Admission as low as $15 provides unlimited visits for one full year.
ARTIST BIOS
Claire Kellesvig
Madison native Claire Kellesvig holds an MFA in Painting and Drawing from University of Wisconsin–Madison and a BFA from Rhode Island School of Design. Through glazing, sanding, and the incorporation of found fabrics, Kellesvig's hybrid paintings intuitively center tactility and material experimentation. Created during pregnancy and early postpartum, her most recent works explore poetic and emotional themes and an increased awareness of an existence beyond that which is visible. Kellesvig is a lecturer at University of Wisconsin–Madison.
Nykoli Koslow
Milwaukee-based Nykoli Koslow has a BFA from the University of Wisconsin–Milwaukee. He explores painting, drawing, installation, and virtual reality. His graphite drawings present a queer mythic cosmology that references the artist's trans experience. The artist plays with thickness and density of line, generating the impression of depth through the canny use of horizontal marks and whispers of representation peeking through the abstraction. The monochromatic symphony of biomorphic calligraphy keeps the eye moving through the artist's expanding exploration of gender, sexuality, and agency. Koslow recently completed his tenure as the Pfister Hotel's twelfth artist in residence.
Meg Lionel Murphy 
Sturgeon Bay native Meg Lionel Murphy attended the University of Minnesota–Twin Cities where she studied art, art history, and English literature. In Florence, Italy, she also studied classical oil painting. Murphy's vivid paintings reference her personal experience of coping with PTSD from domestic violence. Heroic-sized female bodies appear magically larger, stronger, and fiercer than the world that surrounds them. The artist has had recent solo shows in New York and Los Angeles, and her work has been featured in Artnet News, Forbes, and Hyperallergic. In addition to working as a children's book illustrator, she is a cofounder of Paper Darts, an arts and literary magazine, and Pollen Midwest, a nonprofit that uses art and storytelling to explore social justice.
Guzzo Pinc
Chicago-born painter Guzzo Pinc earned an MFA from the University of Wisconsin–Madison in 2020 and BA in art history from the University of Richmond. Pinc's colorful, dynamic compositions boldly blend abstraction with figuration.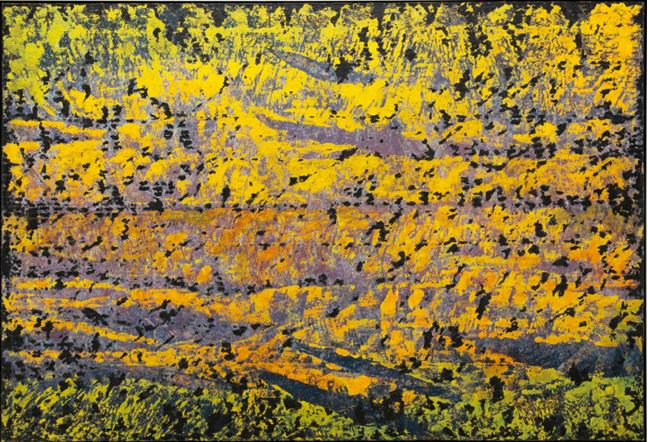 The artist sands the painted surfaces of his canvases to create compelling translucent areas that invite close looking. Influenced by a recent trip to Italy, these large-scale works find playful inspiration in ancient Mediterranean art and architecture, as well as graphic design, street art, and comics. His work has been shown extensively through the Midwest, with recent international exhibitions. Pinc currently lives in Fort Atkinson and teaches at the University of Wisconsin–Madison.
Pranav Sood 
Born in Punjab, India, Pranav Sood earned an MFA in painting from the University of Wisconsin–Madison in 2020 and a BFA from the Government College of Art in Chandigarh, India, where he studied the traditional regional style of Indian miniature painting. Sood blends this influence with Western styles such as Op Art to create vibrant, heavily patterned compositions filled with narrative: each painting details a chapter of a hero's journey toward personal growth, spiritual enlightenment, and the intentional cultivation of a loving romantic partnership. His work has been exhibited internationally and was recently featured in Hyperallegic. Sood lives in Brooklyn.
Brennen Steines
Rockford, Illinois native Brennen Steines holds an MFA in Painting and Printmaking from Yale School of Art and a BFA from University of Wisconsin–Milwaukee. Steines incorporates uncommon chemical compounds in his paintings such as calcium carbonate, silver nitrate, and ferrous oxalate to reflect on art in the age of the Anthropocene. Through a subtle juxtaposition of material accumulation and negative space, he creates aged, topographical forms that suggest the scale of geologic time. Steines was the 2022 recipient of the Yale School of Art–Elizabeth Canfield Hicks Award for Outstanding Achievement in Painting from Nature.
Gabrielle Tesfaye 
Gabrielle Tesfaye is an interdisciplinary artist working in painting, animation, film, and puppetry. Her work is rooted in the African diaspora, ancient art traditions, and cultural storytelling from her Jamaican and Tigrayan background. An elegant combination of watercolor, ink, and gold leaf on paper, Tesfaye's mixed media paintings reflect a variety of narratives, which include deeply personal stories, poems from imagined lands, and an exploration of beauty and pain. She recently founded an artist initiative using art to respond to the Tigray genocide in Ethiopia. Tesfaye holds a BFA from the University of Wisconsin–Milwaukee and is currently pursuing an MFA at the Virginia Commonwealth University in Qatar.
Lindsey Yeager 
Originally from Madison, Lindsey Yeager is an artist and illustrator based in Milwaukee. She graduated from the Milwaukee Institute of Art & Design in 2021, with a degree in New Studio Practice and Illustration. With a commanding yet tender voice, Yeager explores the human condition through raw, bestial allegories set in apocalyptic landscapes, where her protagonists attempt to maintain a sense of self in the face of daunting and overwhelming circumstances. Elongated anthropomorphized rabbits and snarling dogs wearing crowns blur the boundaries between human and animal, between society and nature. Yeager is a two-time Society of Illustrators awardee and junior designer at a boutique design firm.
Johanna Winters 
Interdisciplinary artist and educator Johanna Winters holds an MFA from the University of Tennessee–Knoxville and a BA from the University of Wisconsin–Green Bay. In printmaking, puppetry, performance, sculpture, and video, Winters challenges the social conditioning that perpetuates the repression of female sexuality, empowerment, and agency. Her current work, which addresses the anxieties of aging women and their shame, vanity, restraint, disappointment, and pleasure, features a puppet-protagonist who performs her sensuality for the camera in a rehearsal for being desired. Winters is currently based in Iowa City, where she is the Grant Wood Fellow in Printmaking at the University of Iowa.
Eduardo Zavala
Nonbinary Eduardo Zavala is an interdisciplinary artist based in Milwaukee. They received their BFA in New Studio Practice from the Milwaukee Institute of Art & Design in 2022. Through a combination of lens-based media, live performance, and installation, Zavala envisions queer spaces that exist free from the constraints of gender binaries. Garden-like settings in their work blend the natural and the constructed to create realities that undermine the classification of gender as two distinct and opposite forms.