Washington County, WI – On Saturday, November 6, 2021, Air Force Veteran Michael Darvin, 77, of Hartford, WI, will be heading to Washington, D.C, on the Stars & Stripes Honor Flight with his son, Shae, of Madison, WI.
Darvin enlisted in the United States Air Force at the age of 20, was honorably discharged in December of 1968, then went on to enlist in and serve 32 years with the National Guard, part of which was serving in Afghanistan, earning the rank of Chief Master Sergeant.
Darvin worked in the communications field during active duty as an instructor for three and a half years. Darvin taught cable splicing for joining cables at Sheppard Air Force Base in Texas. "We actually spliced permanent cables that were hung by poles or buried in the ground or some were even just lying on the ground for convenience," said Darvin, "As an instructor, just about everyone I taught went over to Vietnam or Thailand."
Darvin said he did not really feel the effects of civilian opinions on the Vietnam war when he finished his term of service in the Air Force, but he knew other veterans who did, "You know, some people didn't like those that went over to Vietnam for some reason or other. Some didn't, some did. I got mixed reviews from some people. If they came home through a public airport wearing their uniform, they'd be greeted kind of coldly, but if they came home in "civvies," people didn't really know where they came from."
Washington, D.C. is not unfamiliar to Darvin who has a sister-in-law whom he visits that lives in nearby Arlington. He is looking forward to seeing a number of sites, "especially the World War II monument because when we were there last time in 2004 it was under construction.
"I have never seen the new Air Force Memorial, either," Darvin said, "It's kind of a different monument. It's got three spires that are shooting toward the sky which simulate three jet aircraft taking off."
Darvin retired from Wisconsin Telephone Company after working as a cable slicer for 30 years. Nowadays he can be seen playing a little golf or reading books by his favorite author, Clive Cussler. He continues to keep himself busy in the workforce by preparing taxes for the past nine years at a major tax company.
Darvin and his wife, Janet, have been married 56 years this coming January. Together they have three sons and five grandchildren. They met at a dance at St. Aloysius Church in Milwaukee.
Other veterans from Washington County on the Saturday, November 6, 2021 flight include:
Army Veteran Thomas Buschke of Hartford
Army Veteran Charles McCormick of West Bend
Coast Guard Veteran Kenneth Weddig of Kewaskum
Army Veteran Glenn Bogenschneider of Slinger
Air Force Veteran Michael Carney of Slinger
Air Force Veteran Thomas Albinger of West Bend
Army Veteran Donald Pape of West Bend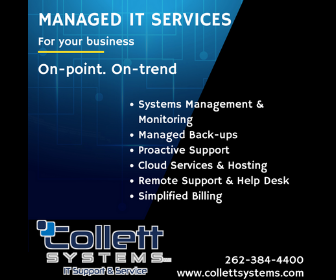 Stars and Stripes Honor Flight is the Milwaukee area hub of the Honor Flight Network.  Founded in 2008, Stars and Stripes Honor Flight has flown more than 7,600 WWII, Korean War, and Vietnam War veterans from southeastern Wisconsin on one day, all-expenses-paid trips to Washington D.C.