Rite of passage | Remember photo day at school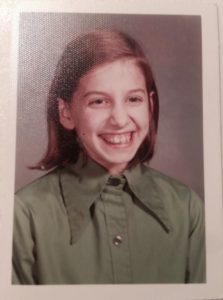 August 17, 2017 – West Bend, WI – It's a rite of passage and it continued this week as incoming students across Washington County lined up for class photos.
The grade school pictures are always a classic.
This one was eagerly submitted by Mrs. Joan Steffes.
SHE thinks it's adorable.
I remember that green dress. It was my favorite… obviously – I wore it for picture day.
I also remember my bigger sister who hated the dress saying, "If the wind caught your collar you could be like the Flying Nun."
I never thought that was funny – but I did think it would be seriously keen to fly. Hence, my future fascination with jet packs.
History note: The Flying Nun was a popular TV show in the late 1960s where a young nun in full habit, Sally Field, would fly if the wind caught her head piece/cornette. It was a very madcap and popular show.
PS: We were very Catholic, my mom liked the Flying Nun and it was regular TV viewing in the Steffes household.
PSS: Although very Catholic my mom also LOVED Archie Bunker and All in the Family. However that was a show we were NEVER allowed to watch and often found ourselves with an early bedtime whenever it came on the black and white.
If you can find YOUR fantastic grade school photo or one of your spouse, be sure to bring it to Music on Main tonight and I'll buy your first drink.