West Bend, WI – The City of West Bend E-waste free electronics recycling day has been slated for Saturday, July 13, from 9 a.m.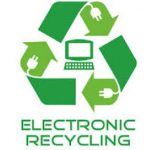 to 1 p.m. at Advanced Disposal, 803 N. River Rd.   West Bend residents only. You must bring proof of residency. There is no cost for this service.
Items Accepted:
desktop printers and printer/fax/copier/scanner combinations
video display devices with displays of at least 7" in the longest diagonal direction

laptop computers
computer monitors

computer peripherals, including keyboards, mice, hard drives, and other devices
fax machines
DVD players, VCRs, and other video players (i.e., DVRs).