Feb. 8, 2019 – Slinger, WI – On Saturday the Feb., 9 Little Switzerland in Slinger along with the Milwaukee Police Department K9 Foundation will have a fundraiser for training and supporting the K9 officers with the Milwaukee PD.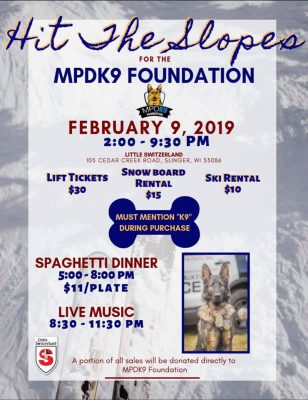 Little Switzerland has agreed to share a portion of fees paid to the foundation when a customer mentions "K9."
Lift tickets will cost $30; Snowboard Rental fee is $15 and Ski Rentals are $10.  If you want to learn how to ski those courses will be available starting at 4 p.m.
You don't ski, don't worry you can still participate in supporting the MPDK9 Foundation by coming for the spaghetti dinner from 5 p.m. to 8 p.m. for only $11 each.  In addition there will be live music in the lodge from 8:30 p.m. to 11:30 p.m.
The purpose of this fundraiser is to help offset the expenses to replace two of the bomb-sniffing dogs.
These two K9 team members are approaching retirement and have served our communities very well.  You may have seen them working at Summerfest, Milwaukee Brewers and Milwaukee Bucks games.
In addition they have been called upon to sweep schools, work places, and special events like Harley 115 programs.
"This event helps with some of these replacement costs.  If you are a law enforcement, firefighter, caring citizen, or dog enthusiast, please show your support," said organizer Rick Cohn. "Remember to say "K9" for your rentals or the meal so the foundation will receive the funds set aside by Little Switzerland."