October 14, 2019 – West Bend, WI – The West Bend School District Private Task Force spent a little more than an hour Monday night running through findings regarding how to deal with facility issues in the West Bend School District following a failed referendum in April 2019.
Members of the Task Force divided their presentation into segments with Kraig Sadownikow presenting an overview followed by Owen Robinson who outlined High School Priorities.  Randy Stark reviewed Elementary and Facilities Deployment and Ed Duquaine and Zimmerman Studios provided various operational considerations.
Kraig Sadownikow – "We challenged ourselves to ask tough questions. It's critical to take a long term, sustainable approach. Over the mid and long term these are best choices.
"It can't be business as usual. Funding and enrollment is declining."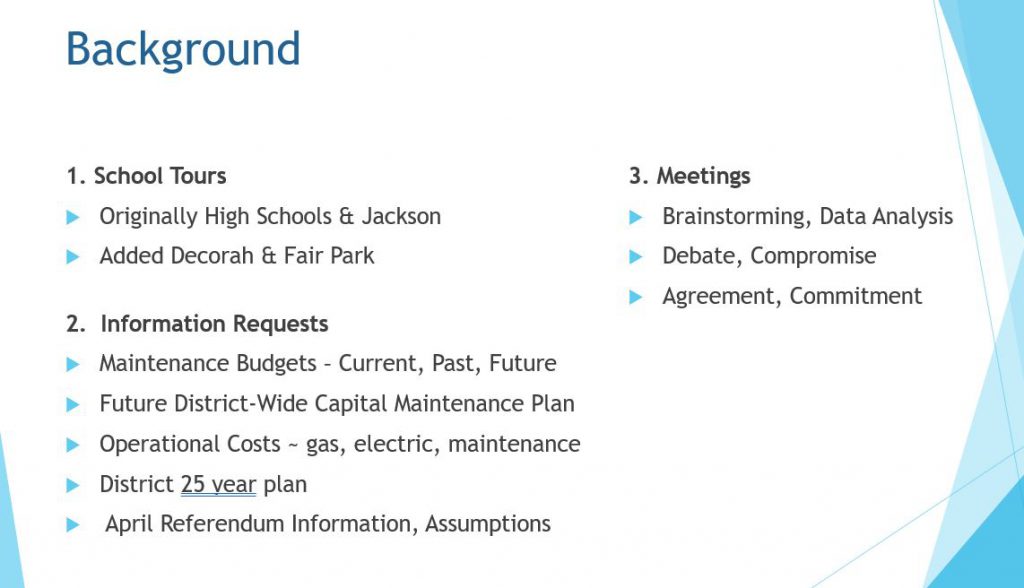 Kraig Sadownikow – "Found a need to use a rolling 25-year plan that's updated. It can't be stagnant. Current decisions are being made using info that's dated. The info is a decade old. Administration should present a plan on an annual basis along with a 5-year public committee.
"As a district there are multiple campuses at wide geographical locations. That means maintaining and monitoring is difficult. This makes operating the district more expensive."
"Communication is critical with residents; currently it isn't transparent. Erring on side of too much communication is better than too little."
"Money is the solution to the problem – more money may not be."
"Finally – the capital maintenance budget is inadequate. It's underfunded. Can't consider a new investment in new facilities without considering how to maintain what we currently have. Building new while avoiding maintenance is a losing situation."

Doug Barnes from Zimmerman Architectural Studios – "Other school districts that have consolidated include New Berlin which has closed four schools and Beaver Dam has closed elementary schools and consolidated and Racine."
School board member Paul Fischer  – "There's definitely stuff to think about here and the hard work starts tomorrow. There's a lot of decisions to be made and they're not easy. Doing nothing is not an option. The proposal to close the schools is definitely out of the box."
"We're not anywhere close to an April referendum," said Fischer.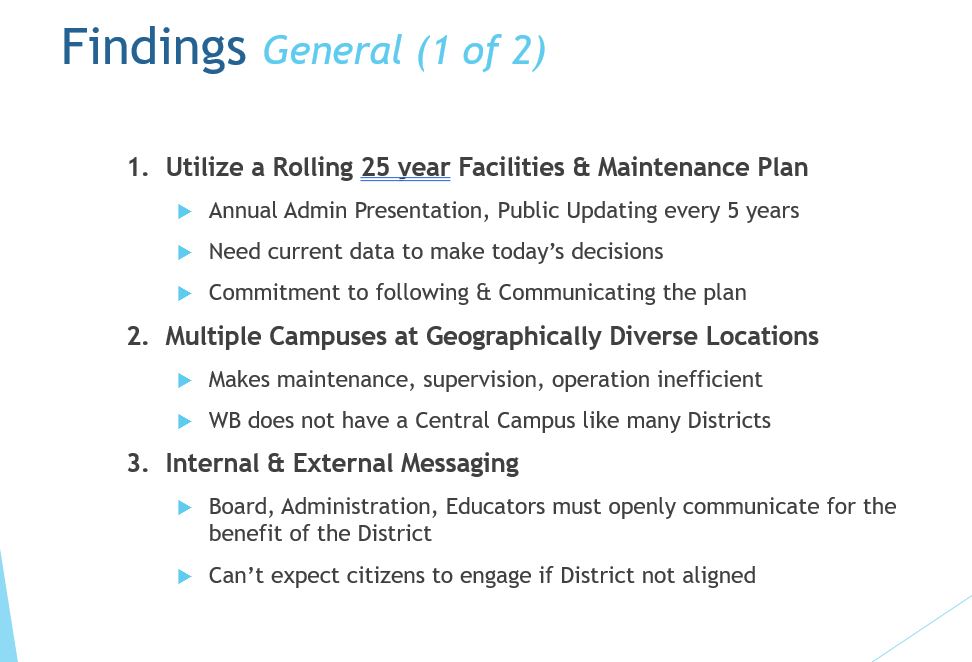 Randy Stark – task force member: How do we take older inventory off line and replace it.
Options:
We could do nothing. Keep spending $1.5 mil a year on facilities
Retain all building and come up with money and address immediate capital needs however the design characteristics with concerns can't be changed. Even if come up with $22.5 mil – we still have 80% of square footage is getting older.
Replace Jackson – in 25-year plan – solves some problems but only addresses one building.
"Perhaps a school in Jackson is no longer justified," said Randy Stark from the Task Force.
Construct one new school (783 capacity) at a south side location and expand Green Tree. Close/sell Jackson School, Jackson land, Decorah, Fair Park, District Offices, Rolfs & Maintenance. Develop a single central campus on the south side of WB.
Bernie Newman, head of Common Sense Citizens of Washington County – "This is a bold plan. It's outside the box. Little more bang for your buck as far as return on maintenance costs. It'll take money up front but we'll have better savings in the end."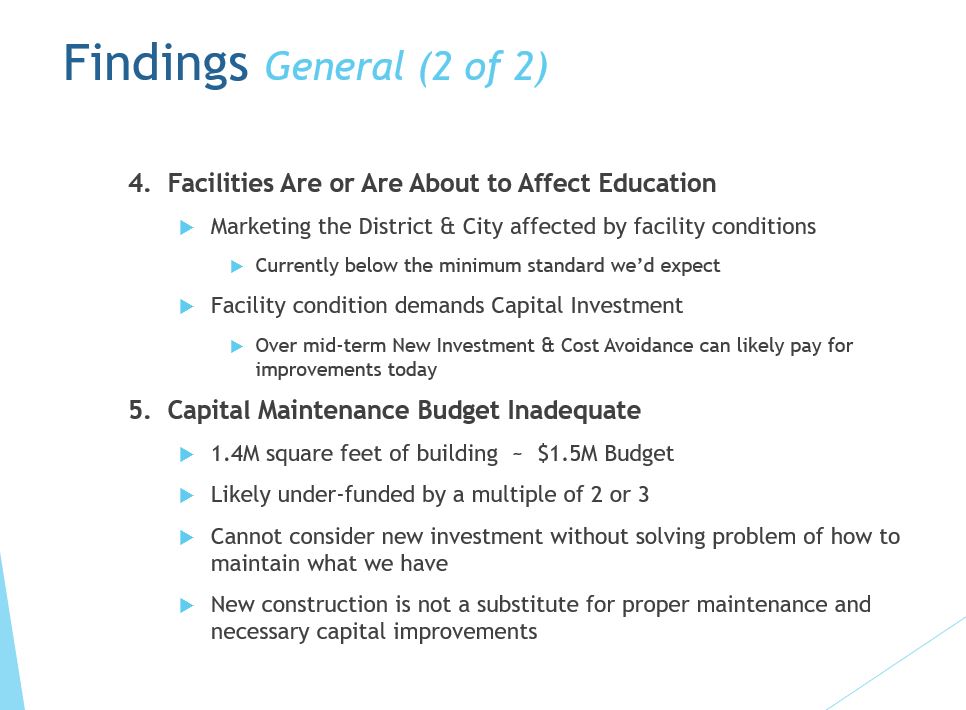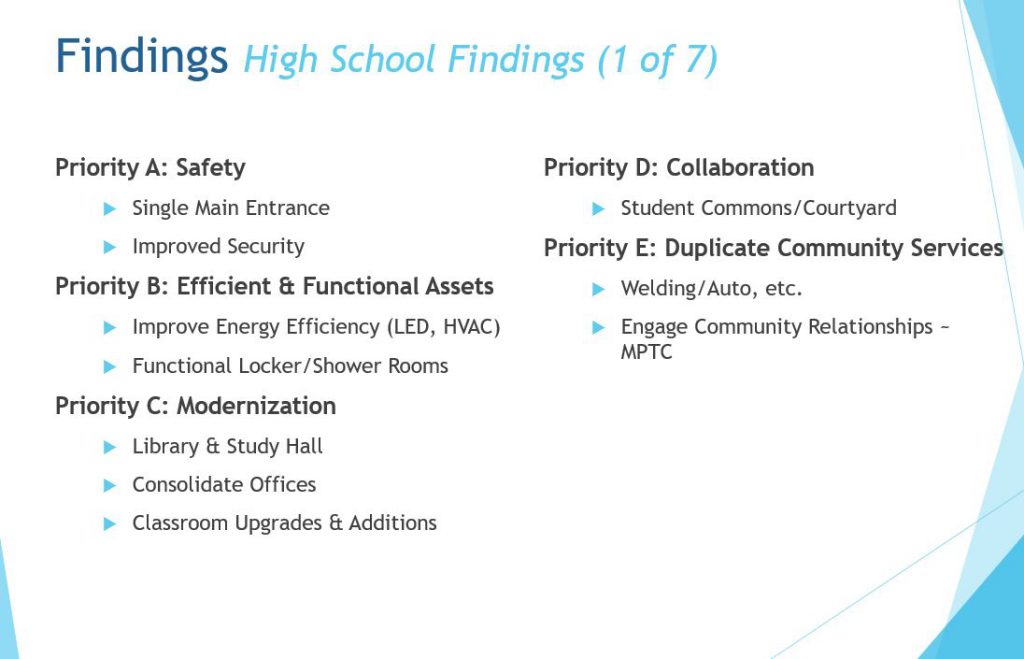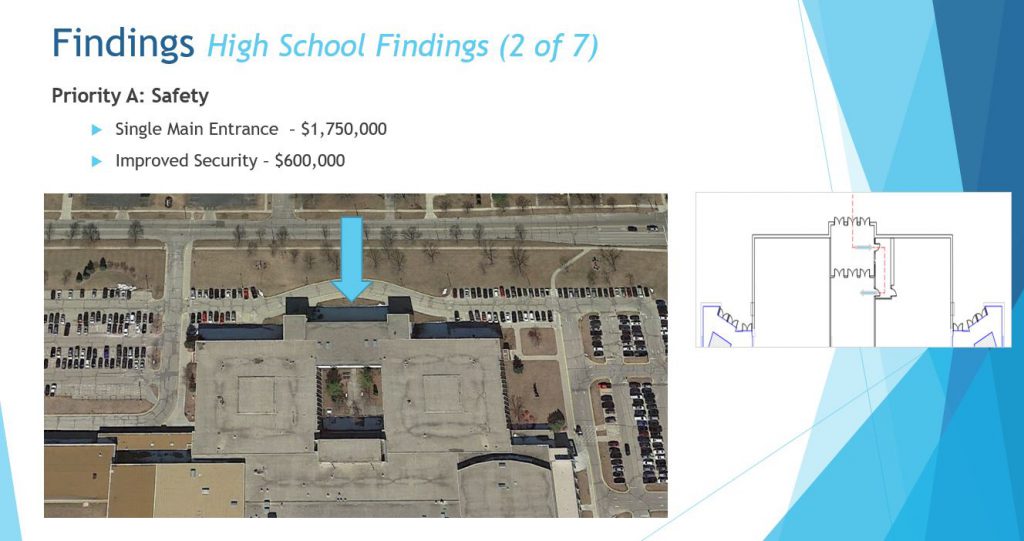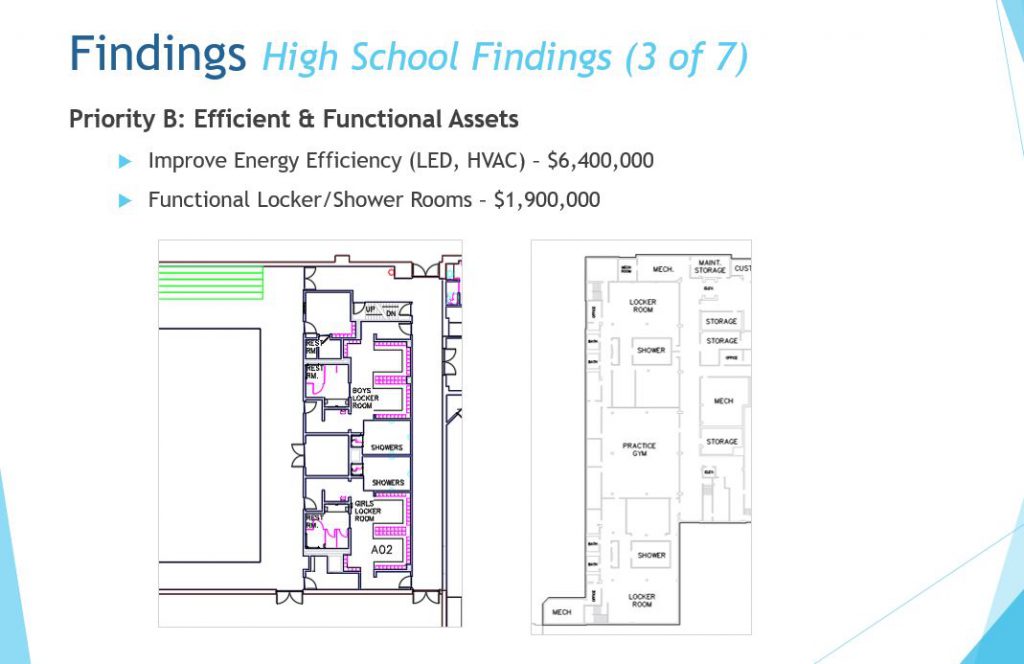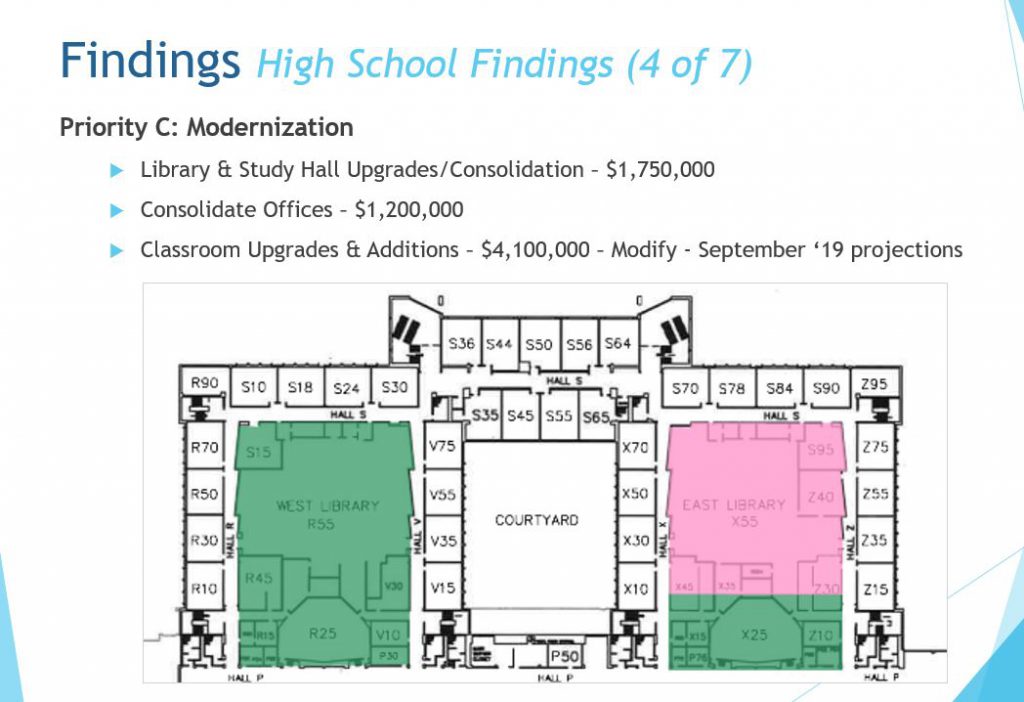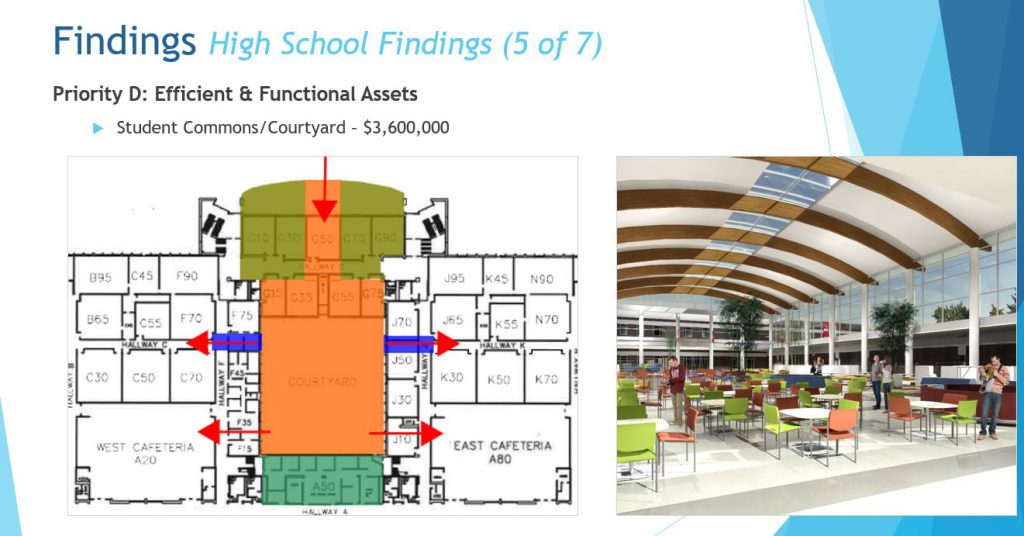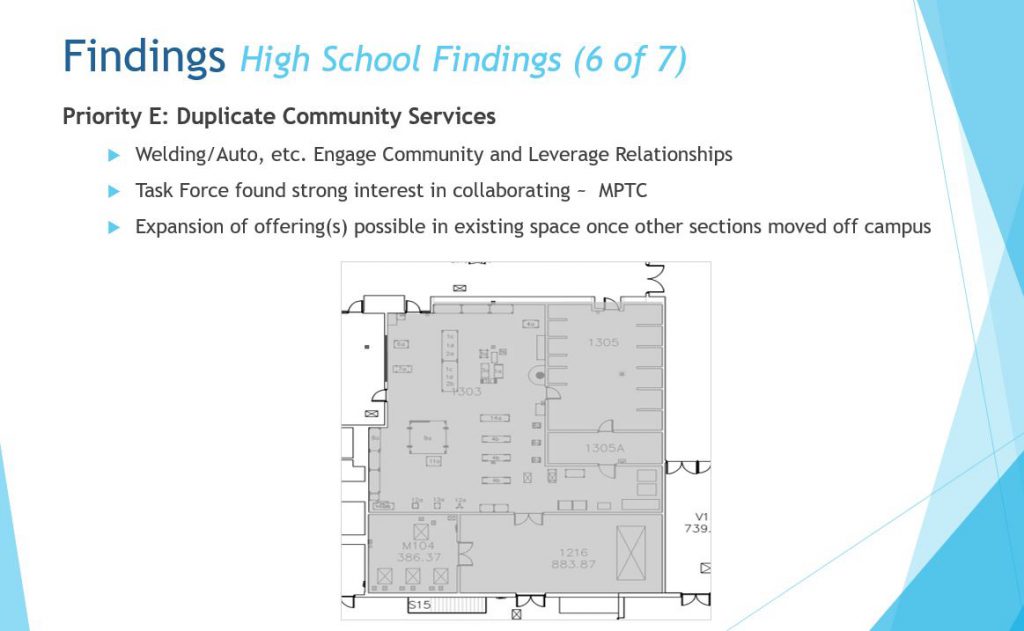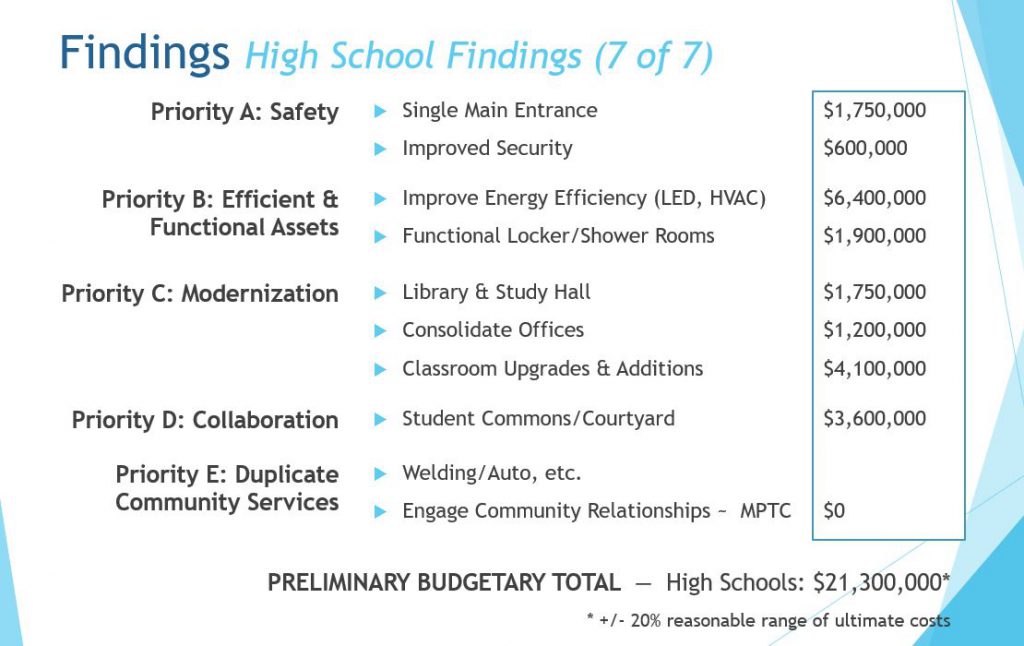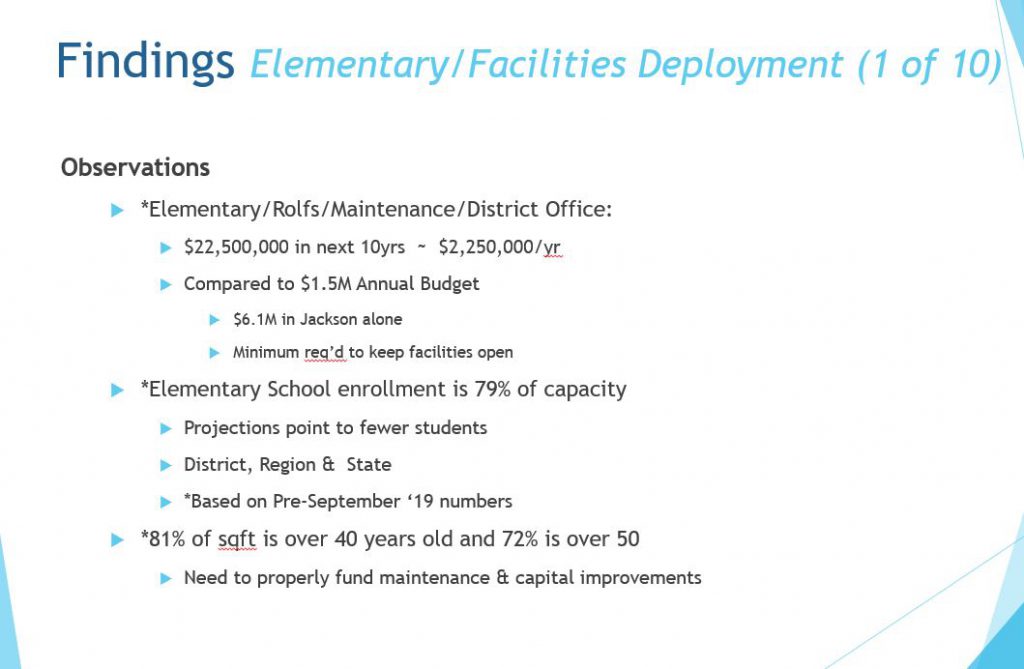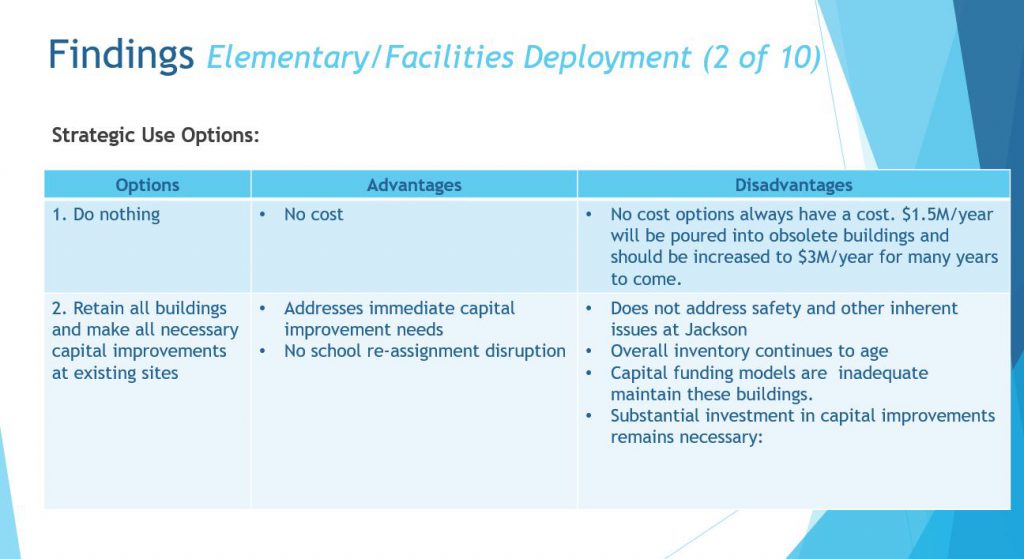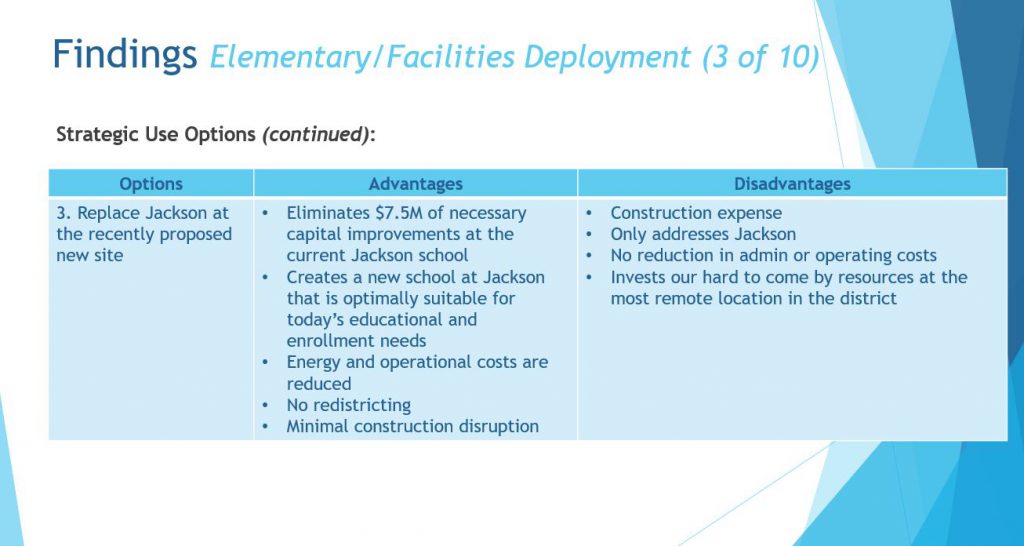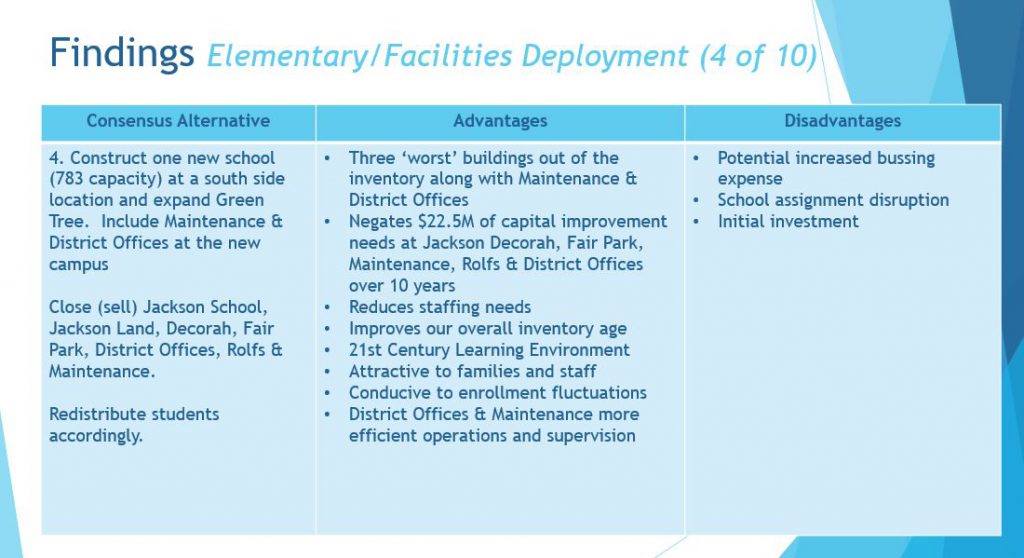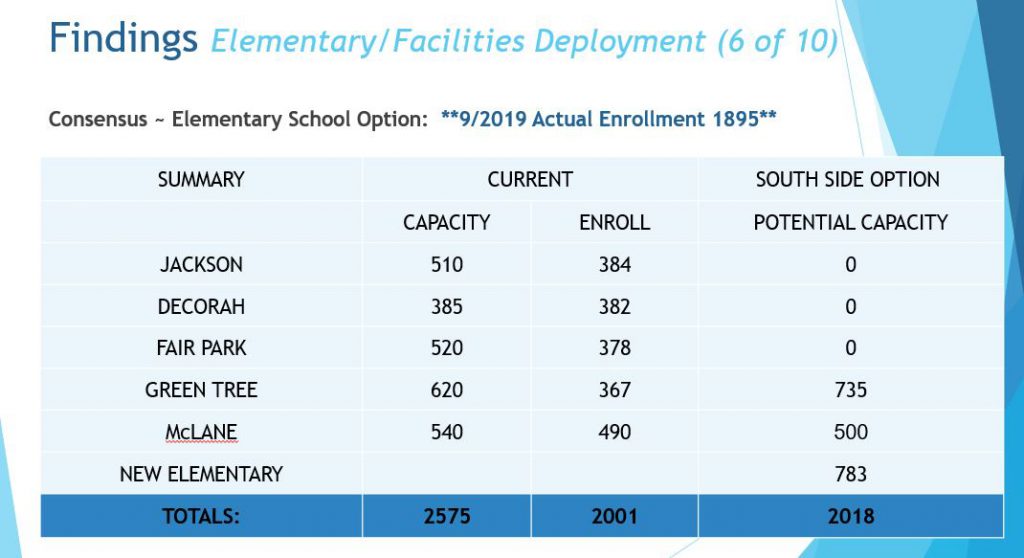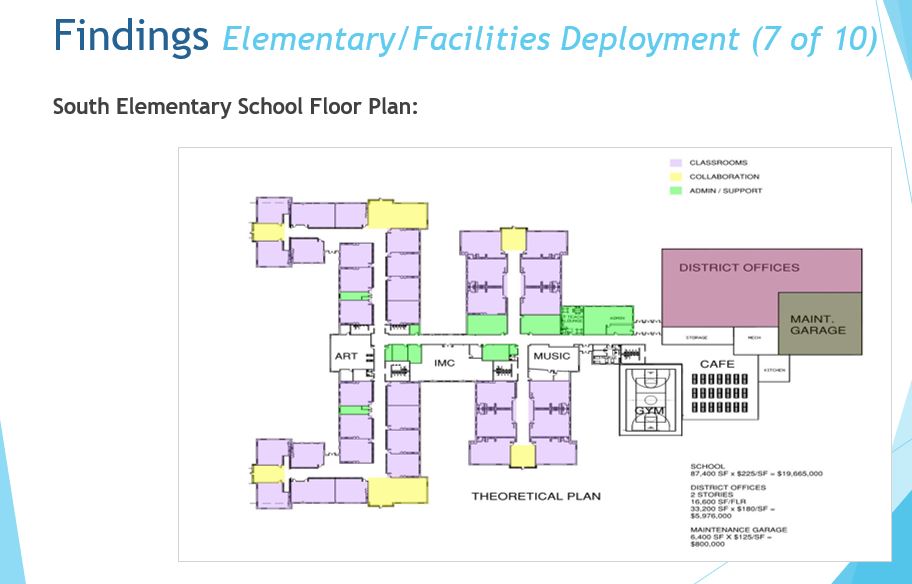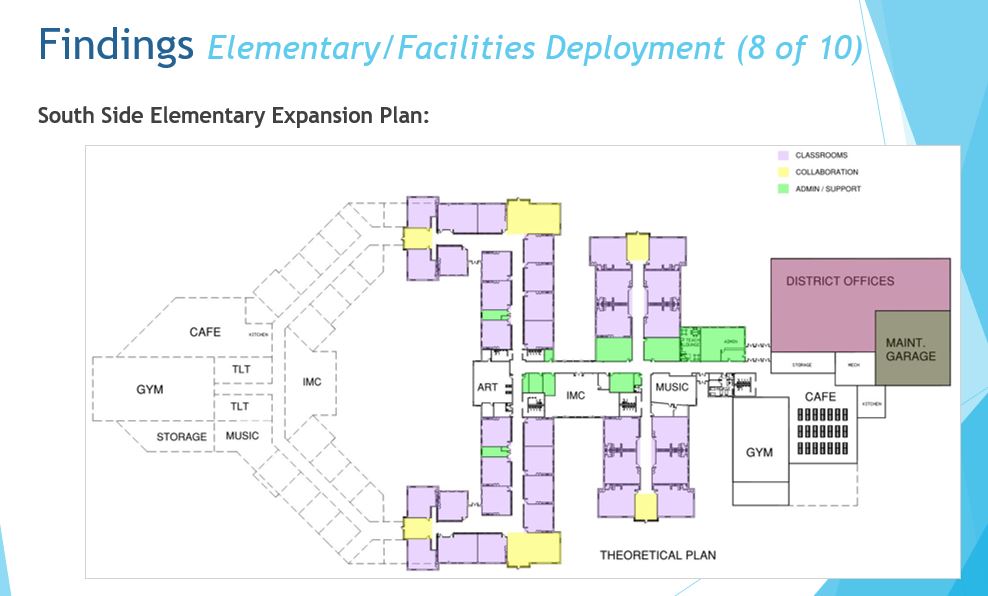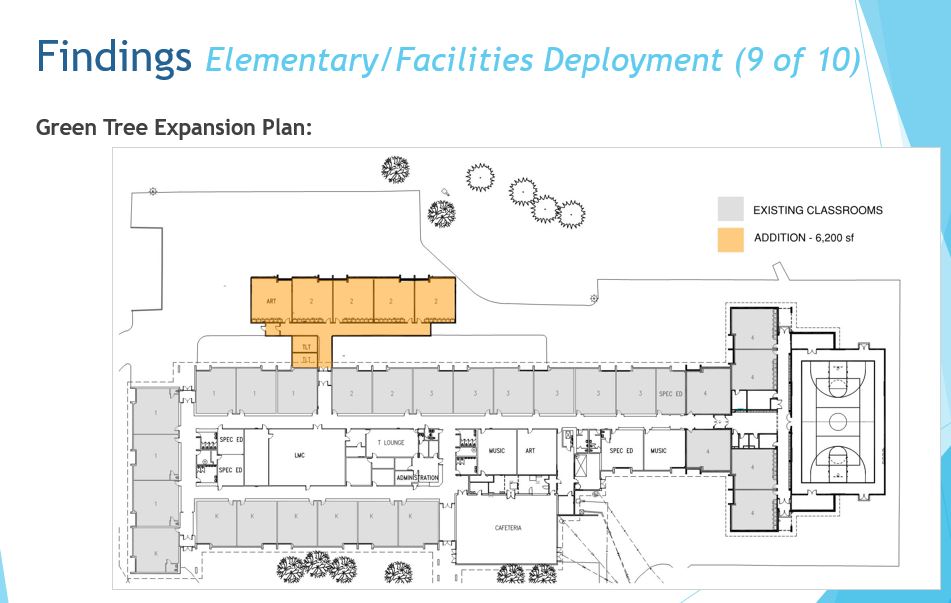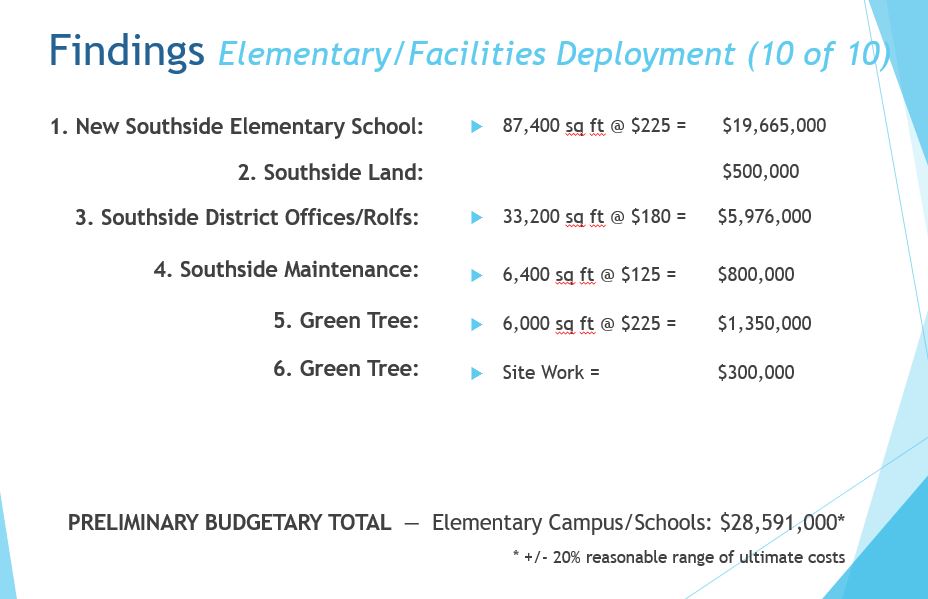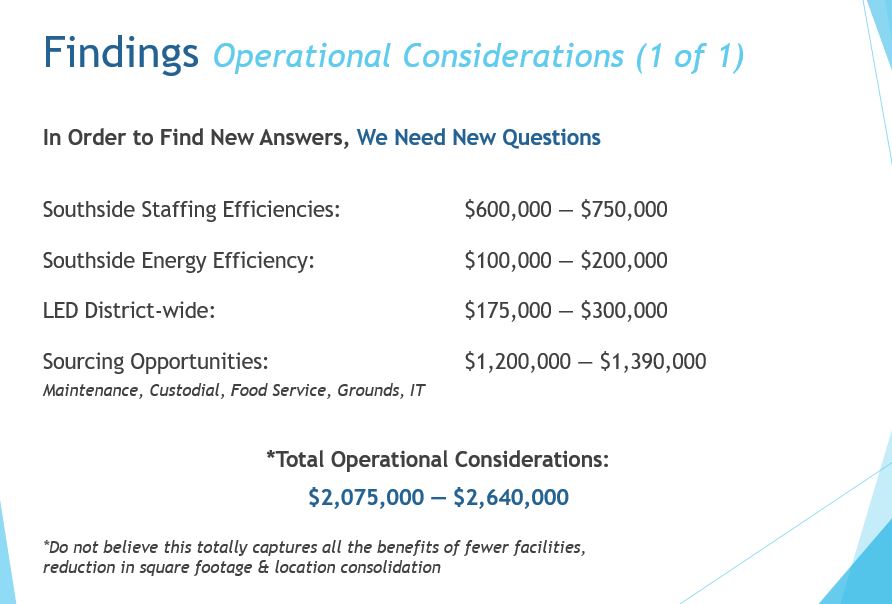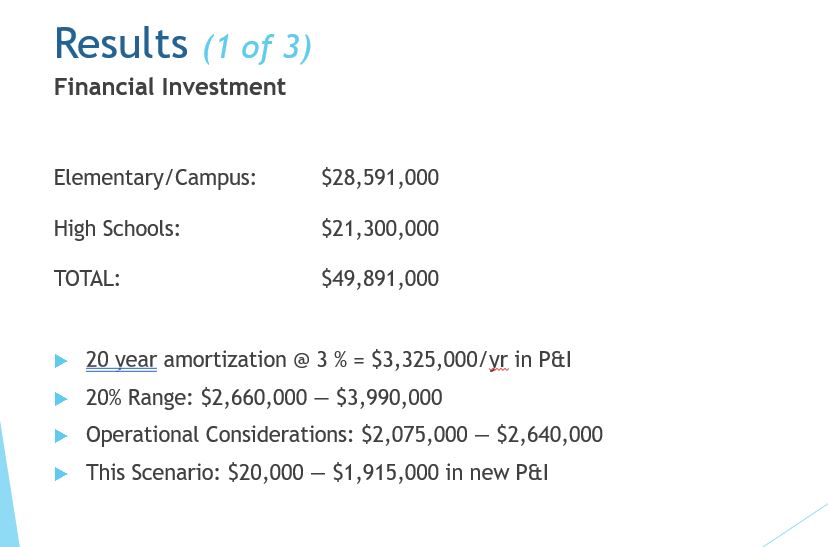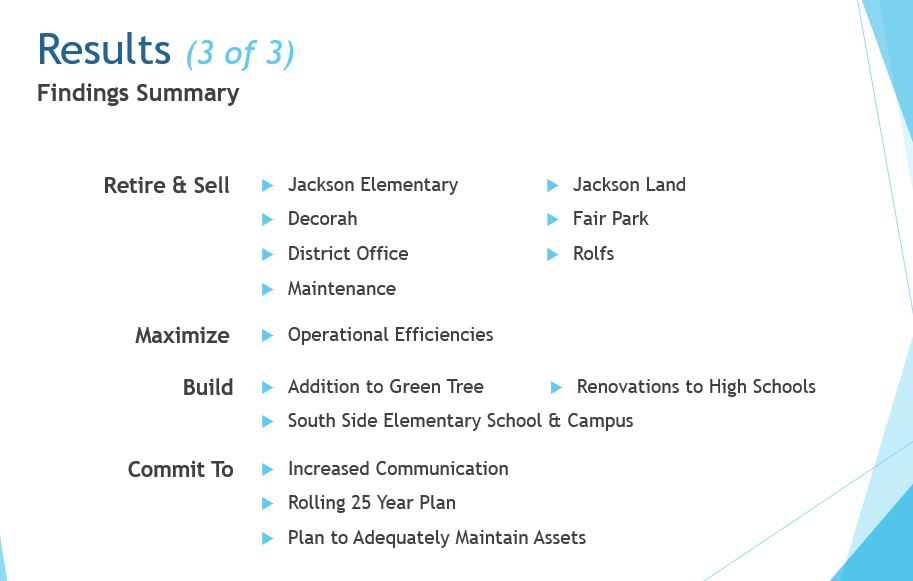 The meeting ended with board member Paul Fischer saying "there is no foregone conclusion. This is truly information gathering."
"The tough work starts October 15. Thank you guys for the time you put in. This is a blue-ribbon panel," said Fischer.
Superintendent Don Kirkegaard said he wished the task force had looked at all the elementary schools including Green Tree and McLane.