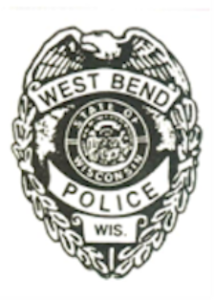 ELUDING AN OFFICER: On July 2, 2016 at 5:35 p.m., a West Bend Officer observed a speeding violation on Indiana Ave. at East Washington St. and attempted to stop the vehicle. The driver of the vehicle continued driving northbound on Schmidt Rd. The officer followed in his squad car with the emergency lights and siren activated. The driver eventually pulled over in the 1700 block of Schmidt Rd. and was identified as a 20-year-old female from West Bend. The female said she knew the officer was trying to stop her but she did not want a ticket and was "hoping he would just go away". The female driver was arrested for fleeing an officer and cited for speeding.
ABUSE OF HAZARDOUS SUBSTANCE: On July 3, 2016 at 12:30 a.m., West Bend Police investigated a complaint of several individuals in a vehicle in the Walmart parking lot at 1515 W. Paradise Dr., who appeared to be inhaling helium from a tank. Officers located and identified a 20 and 21-year-old male, both of West Bend, and arrested them for abusing a hazardous substance.
3rd OFFENSE OPERATING A MOTOR VEHICLE WHILE UNDER THE INFLUENCE: On July 3, 2016 at 1:10 a.m., West Bend Police officers were investigating a disorderly conduct complaint and located a vehicle parked in the 600 Block of Vine St. The driver was identified as a 36-year-old female from West Bend. The driver had been drinking, failed the Standard Field Sobriety Tests and was arrested for her 3rd Offense Operating a Motor Vehicle While Under the Influence (OWI).
POSSESSION OF DRUG PARAPHERNALIA/POSSESSION OF FIREWORKS: On July 3, 2016 at 3:47PM, West Bend Officers were investigating an anonymous complaint of fireworks being discharged in the 500 Block of Scenic Dr. Officers located two 16 year old and two 17 year old males, all from West Bend, in the backyard of a residence. The males were cited for Possession of Fireworks. One of the 16 year old males was in possession of items commonly used for smoking marijuana and was issued a citation for Possession of Drug Paraphernalia.
WEAPONS OFFENSE:  On July 4, 2016 at 10:10 p.m., West Bend Police were dispatched to the area behind the Senior Center, 400 Block E. Washington St., for a report of someone pointing a handgun during an argument. Officers met with a 23-year-old Slinger male who reported that he had been watching the fireworks at Riverside Park with his family and was leaving the area. The Slinger male said that a female approached him and accused him of throwing lit fireworks at her. The Slinger male said that an unknown male, not with the female, then approached him and pointed a firearm at him, warning him about shooting off fireworks. The male actor with the gun walked away to the north across E. Washington St. No one was injured during the incident and it is still under investigation. The actor is described as a white male, large build, 50 to 60 years old, with a white beard and gray hair down to his shoulders, wearing a straw cowboy hat and jean vest. Anyone with any information should call the West Bend Police Department at 335-5000.