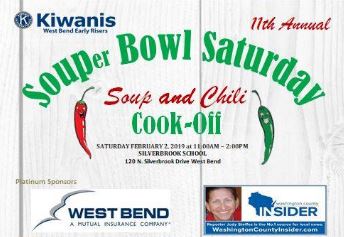 West Bend, WI – Make plans to take part in the Kiwanis Early Risers annual Chili Cookoff on Saturday, Feb. 2 at Silverbrook School, 120 N. Silverbrook Drive in West Bend.
Advance tickets available at Horicon Bank, Klotz's Piggly Wiggly or any Kiwanis Early Risers member.
The West Bend Kiwanis Early Riser's Chili and Soup Cookoff is always a popular event. Families and friends get their fill of some of the best locally-made chili.
The Kiwanis Early Riser's next "community event" is the Free Kids Fishing Clinic.
2018 winners are below.
The People's choice:
For soup—
1st place—Jug's Hitching Post Saloon & Grill
2nd—The Charcoal Grill & Rotisserie
3rd—The Braising Pan Restaurant & Bar
The People's choice:
for chili:
1st place—New Perspective Senior Living
2nd—West Bend Fire Fighters
3rd—Interfaith Caregivers
The judge's choice:
For soup— Independent restaurants category–
1st place—Riverside Brewery & Restaurant
2nd—The Braising Pan Restaurant & Bar
3rd—Jugs Hitching Post Saloon & Grill
Franchise restaurant category—
The Charcoal Grill & Rotisserie (only one entry in this category)
The judge's choice: For Chili—
First Responders— West Bend Fire Fighters (only one in this category)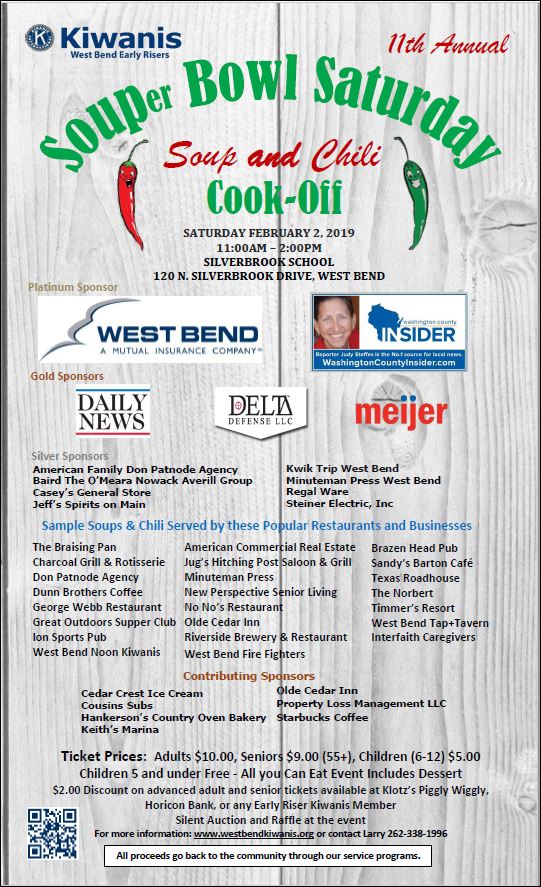 Independent restaurants category
1st place—Skinny Vic's Diner & Coffee Shop
2nd—Timmer's Resort
3rd—Moonlighting Bar & Grill
Franchise restaurants category—
1st place—New Perspective Senior Living
2nd–The Charcoal Grill & Rotisserie
3rd—Dunn Brothers Coffee
Business category—
1st place—West Bend Noon Kiwanis
2nd—Minuteman Press of West Bend
3rd—Don Patnode Agency / American Family
Non-profit category—
Interfaith Caregivers (only one in this category)