Washington Co., WI – The 20th Annual Bridal Fair is Sunday, January 26 at Washington County Fair Park and Conference Center.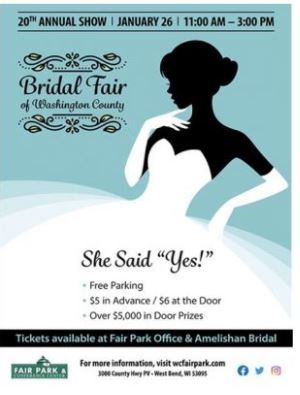 Come enjoy a fabulous selection of gorgeous wedding gowns and other attire along with the latest trends in wedding celebrations and more.
New to the Expo for 2020 will be a balloon drop of incredible prizes and our unique "WEDx" talks to address various topics for what to do after "She Said, 'Yes!'"
There will be an exposition showcase where the area's finest event professionals help create the celebration of a lifetime. There will also be food and beverages available for purchase.
Admission to this "Bride-tastic" event is $5 per person in advance and $6 at the door. To join in the sparkle and celebration, tickets are now available ONLINE or at the Fair Park office.
"We are so excited to host year 20 of the Annual Bridal Fair. We have a new balloon drop of prizes and our "WEDx" Talks on various wedding topics that is sure to enlighten all our guests. We look forward to seeing you there," shared Kellie Boone, Executive Director.
For more information click HERE
Date: Sunday, January 26, 2020 Times: 11 a.m. – 3 p.m.
Location: Washington County Fair Park & Conference Center 3000 Hwy PV West Bend, WI 53095
Cost: $5/person in advance & $6 at door