It all started with Ted Demler who owned the gas station across the street (
now Kwik Trip
) that was called Demler Standard Station.
Paul Demler (Ted's son) grew up helping at the station. When Hwy 60 was being built Paul sold his dump truck and bought a new one to help with construction, that was what sparked his passion for auto sales.
Paul's wife later convinced him to write a letter to GM to sell vehicles which was then granted. The cost of the GMC franchise was a 2-cent postage stamp and Uncle Phil Demler gave Paul the loan to get it all started.
The Dodge store was bought in 1984 by Paul Demler. That was when the Dodge Franchise was started.
In 1996, Mark Demler, Roman Weninger and Donna Howarth bought the Dodge store. In 2008, the 3 bought a Chrysler & Jeep branch. That's what made it 5 Corners Dodge, Chrysler and Jeep.
Donna later retired in 2012. Eric Weninger (Roman's Son) bought in 2016 along with Matt Demler (Mark's Son) in 2021.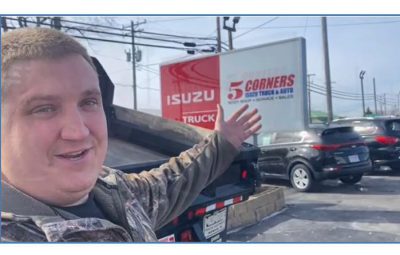 All this history is what made as we know now 5 Corners Dodge Chrysler Jeep Ram owned by Roman Weninger, Mark Demler, Eric Weninger and Matt Demler.
What are some of your earliest memories of 5 Corners?