Hartford Middle School sixth graders Madelyn Burris and Sydney Berger wrote a story about their recent band trip to Washington D.C.
On Tuesday, we visited some of Washington D.C.'s most famous buildings and memorials, and we even got to play in front of one of them.  We got to play in front of the Lincoln Memorial as our families and many other people from all over the world watched.
After the concert, we visited Abraham Lincoln in the Lincoln Memorial.  After we went to the Vietnam War Memorial, the Women of War Statue, and the Korean War Memorial.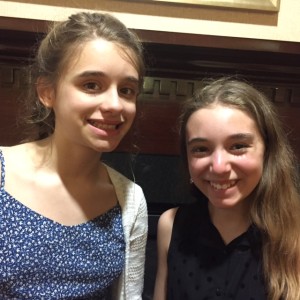 At the Korean War Memorial there are 19 statues.  The 19 statues, plus their reflections symbolize the 38th parallel, where the Korean war was fought.  Next we went to the Capitol.
The Capitol was under construction because there were 1,300 cracks in the dome.  After the Capitol we visited the FDR Memorial.
The FDR Memorial was surrounded by beautiful cherry blossom trees that were blooming.  The FDR Memorial had 4 rooms.  Each room represented his 4 terms of office.  It felt like we were walking through snow falling because the cherry blossoms were falling off the trees.
The last things we did was look at the south side of the White House, The World War II Memorial, and the Washington Memorial.
The north side of the White House wasn't open because the Nuclear Summit was going on.  At the World War II memorial there was a pillar for each state and each territory.
All in all, it was a good day of touring in Washington D.C.