Accepted offer on former Graymont building in downtown West Bend
Oct. 2, 2018 – West Bend, WI – The former Graymont building, 206 N. Sixth Ave.,  in downtown West Bend has an accepted offer.
Seed of Hope Center  is looking to purchase the building. The medical clinic, based in West Bend, provides free pregnancy testing, sexual health consultations, and parenting education.

"We have been serving Washington County for 26 years," said executive director Laura Denk. "We've moved around a bit and we've been thinking we have so many women that come to us and those who love our services and we wanted to put our roots down in Washington County and make it permanent."
Seed of Hope Center has moved four times in the last 17 years. It is currently located in the office building, 279 S. 17th Avenue, in West Bend. Prior to that it was located in the Spaulding Clinical building off Oak Street and prior to that it was in two different locations in Hartford.
"We love everything about the building but the biggest thing that attracts us to it is the location," Denk said. "We work so closely with many different agencies in Washington County and we felt we would be surrounded by other agencies that could provide services some of our moms need."
Denk mentioned Family Promise, Life of Hope, the Department of Social Services, Froedtert St. Joseph's Hospital and Friends of Abused Families as key partner agencies in the community.
Currently Seed of Hope Center has about 3,000 square feet of space. The site on Sixth Avenue measures a little more than twice that.
"We want to build an educational kitchen so we can teach," said Denk. "A lot of our moms learn how to set a menu and grocery shop but some don't and this would be a good opportunity to teach."
Seed of Hope Center averages 600 – 800 people that take advantage of classes each year.
"Our future, future goal would be to provide not a shelter, but a home for moms prior to giving birth," Denk said.  "Some of the young ladies that come here were never nurtured and they never learned how to be a parent. We're looking for a short term 6 to 9 month stay that helps these moms learn life skills, deal with their own life struggles and just to get them on their feet so when their baby is born they could raise their own family."
Denk said the goal would be to be in the same building but they haven't even explored that yet.
"Buying this building is just a stepping stone," she said. "The purpose of buying the building is to be one location for all our services."
Denk credited the multiple donors and supporters for assisting in the purchase of the building.
The building on the northwest corner of Sixth Avenue and Elm Street was built in 1961.
According to the city assessor the property was assessed at $414,500 in 2018.
The total property tax in 2017 was $9,726.13.
The portion that went to the BID assessment was $1,320.
Seed of Hope Center is a 501c3 non-profit. The city assessor's office said it would have until March 1, 2019 to apply for exemption.
Seed of Hope Center is planning to move into its new location before the end of the year.
In March 2016 the property went up for sale. Below is the archived story from Around the Bend.
Property updates
The former Graymont building, 206 N. Sixth Avenue in West Bend, has finally hit the real estate market. The property is formerly home to Western Lime Corporation. It changed to Graymont in April 2012 after the company moved from a small office above the Husar building.
Last April, Graymont moved across the street to 215 N. Main Street, formerly the Ziegler building.  The property at 206 N. Sixth Ave. was built in 1961, updated in 1994, is 7,500 square feet and is listed by agent Jodi Brandt from RSM Property Management & Realty at $495,000.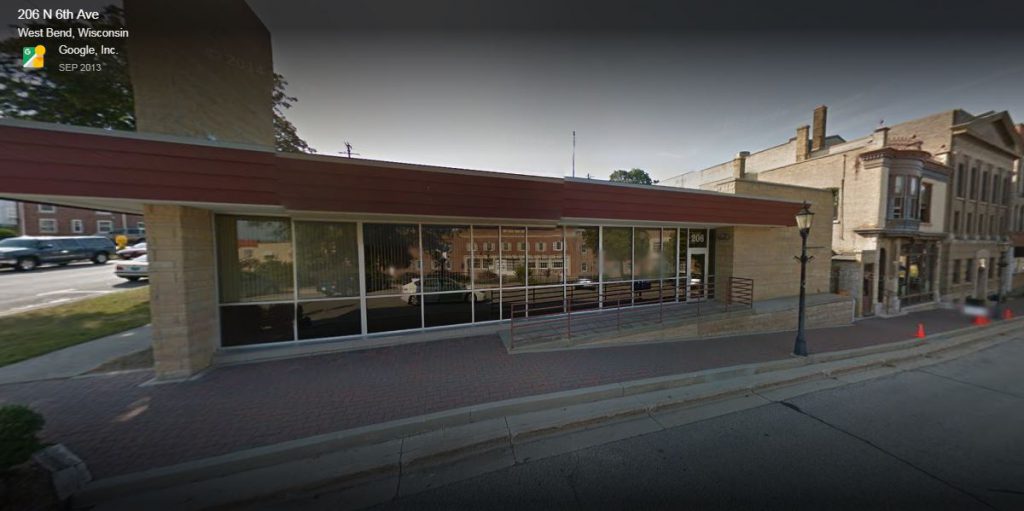 The closing date according to RSM Property is November however that date may be pushed up a bit. We'll keep you posted.