Washington Co., WI – Cedar Community's Amy Kopfmann grew up with a passion for music. Her college major was an easy choice—or so she thought. She attended Viterbo University in La Crosse, Wisconsin, on a high jump scholarship and pursued a degree in music education and opera. Amy soon realized that being a music teacher was not the right path as she didn't want to grade people on their musical abilities—so she changed her course. During that time, her sister was also diagnosed with brain cancer, so Amy took a hiatus from school to focus on spending time with her family.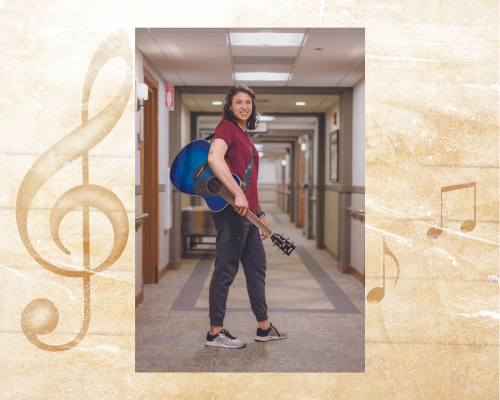 Her sister ultimately lost her battle with cancer. But, it was during her sister's treatment and therapy that Amy experienced first-hand the positive and profound impact that a music therapist could have on those facing serious illness and even death.
Amy's interest in music began at an early age—participating in musicals, choir, vocal jazz, acapella groups, and band. She plays flute, piccolo, drums, piano, guitar, and ukulele, and is looking forward to learning the cello and harp. Amy was a drum major in her high school marching band—and had the opportunity to learn the art of conducting.
Returning to school after her sister's death, she continued her pursuit of a music therapy degree—attending and graduating from Alverno College with a bachelor's degree. While attending school, she also worked in her family's countertop installation business. Fun fact—she assisted with countertop installations in Cedar Community's Cedar Ridge Homes.
Read more about Amy Kopfmann in the summer edition of Cedar Community's Live More magazine by clicking HERE.