Around the Bend: Updates & tidbits by Judy Steffes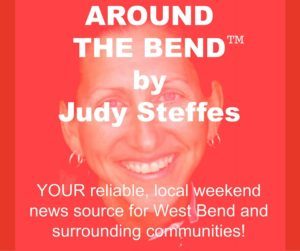 –
West Bend West Junior Spartans 2016-2017 basketball tryouts are Monday Sept. 12, Tuesday Sept. 13, or Wednesday Sept. 14 at the West Bend High School Field House from 7:30 p.m. – 8:30 p.m. Please arrive by 7:15 p.m. The West Bend West Junior Spartans Basketball teams focus on teaching good sportsmanship, building character, and teaching leadership skills through high-level competition. Plans are to have at least one team at each grade level 3rd to 8th grade.

 
–
On Wednesday, Sept. 14, you can honor the first responders who answered the call for help on 9/11 by donating blood between 1:30 p.m. – 6:30 p.m. Call First Baptist Church, 2300 S. Main Street in West Bend to schedule an appointment, 262-334-9211.

 

 

 
-Dave Sobelman has inked a deal with Al and Nancy Hochmuth to bring his Sobelman's Pub & Grill to Richfield. Sobelman is working with the owners of the former Amici's Restaurant in downtown Richfield. "It's not a done deal because now all of the legal paperwork etc. begins, but it is a major step forward," said Sobelman. "Thank you to everyone for your kind words and well wishes. Stay tuned for more updates coming soon!"
–
A gluten-free lifestyle can be challenging. Expand your knowledge and find available resources at the Gluten Free Expo on Sept. 24 at the Washington County Fair Park. The event is sponsored by Wellness Found Organic Foods. Tickets are $7.
– Laurel's Camera and Gift has opened in its new location 239 N. Main Street. The Fehrings will share space with their son's jewelry shop M.F. Diamonds.
-The 21st annual Boltonville Fire Department Street Dance is today Saturday, Sept. 10 featuring Rebel Grace.
-There are informational meetings next month for the Kewaskum School District referendum project. The Nov. 8 referendum is for $28.4 million. With interest total cost is close to $40 million.
–
Badger Masonry & Fireplace Supply, 545 N. Main Street has a grand opening Sept. 16 – 17. The store is located in the former Tennies Buick building. The office number is 262-343-8580.
–
Halloween Express is open; it's in the former Walgreens on Decorah and S. Main Street in West Bend.

 

Halloween Express secured its lease until Nov. 2 through Adam Williquette at Anderson Commercial Group.
–
Early Farm Days in Kewaskum is Sunday, Sept. 11 at River Hill Park.
–
DIVA night is on tap Thursday, Sept. 15 in downtown West Bend and Barton.