Around the Bend: Updates & tidbits by Judy Steffes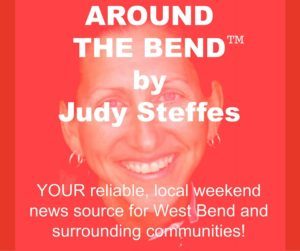 Oct. 29, 2016 – Updates & tidbits
– There is a large leaf-raking effort underway today as 60 members of the West Bend East High School National Honor Society are teaming with Interfaith to rake leaves for senior citizens in West Bend and Jackson.  The high school advisor is Scott Lone.
– The Veterans Day Observance at Kettle Moraine Lutheran is Nov. 3 at 9:20 am. The theme this year is POW/MIA.
-WB Inn, LLC has purchased the property at 1769 Barton Avenue and Gadow Lane. The parcel sold for $185,000. Mile View LLC was the previous owner. The property had been assessed at $163,000 and the vacant lot next door assessed at $400.  WB Inn, LLC is Assembly Rep. Bob Gannon. "I've always wanted to own a piece of Barton," said Gannon.
-The Knights of Columbus is having a 'Fifth Sunday' Pancake Breakfast at the Columbian on Oct 30 from 11 a.m. – 1 p.m.  It is $5 per person or $15 family. Proceeds will support Seminarians in their studies.
-West Bend East High School students volunteered their time last Saturday to help set up decorations for this year's Enchantment in the Park at Regner Park. Students said they learned the value of donating their time for a good cause.
-There are several job openings for a sidewalk crew and plow drivers at Extra Mile Snow Specialists in West Bend. Pay is $20 per hour. Go to extramilesnow.com to fill out an application or call Aron at 262-334-3011.
– The Harvest Moon Celebration is Saturday starting at 4 p.m. at St. Mary's in Barton. There will be music and dancing and homemade pie.
– Wisconsin Antique Power Reunion is announcing the 2016 Raffle Tractor prize winners. 1st Prize:  1948 Ford 8N Tractor is Roger Rogge, Jackson, 2nd Prize: $550 is Dave Thompson, Janesville, 3rd Prize:  $350 is Dan Kuchenbecker, Brillion, 4th Prize:  $250 is Lisa Charneski, Denmark, 5th Prize:  $200 is Joe Fechter, West Bend, 6th Prize:  $150 is Butch Drissel, Union Grove.
– The 8th annual Women of Christ Conference at the Washington County Fair Park is Saturday, Nov. 5.  This is a chance for women to become inspired by their Catholic faith and feel God's grace.
– Help is available to families in Washington County that need assistance with winter heating bills. Contact Kay Lucas with the Washington County Human Services Department which oversees the Energy Assistance Program. The number is 262-335-4677.
-Fillmore Fire & Rescue fish fry is Friday, Nov. 4 at 8485 Trading Post Trail in Fillmore starting 5 p.m.
– The UW-Washington County Volleyball team captured the Runner-Up trophy at the Wisconsin Collegiate Conference State Volleyball Tournament in the Wisconsin Dells. Amber Herbst was selected to the All-Tournament team.
– Accord Manufacturing, Inc. of Jackson has acquired Jeninga Bros. Metal Forming of Elkhorn. The new entity will be known as Accord Metal Products, LLC.   The acquisition further diversifies Accord's production resources, which will now include deep-draw and wire forming capabilities. Accord is in its 27th year of operation, providing metal stampings to customers across North America.