Big Brothers Big Sisters of Wash. Co. celebrates 30th Annual Bowl for Kids' Sake Fundraiser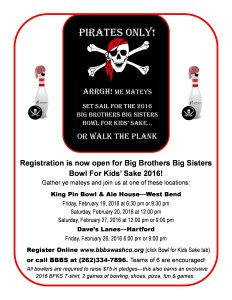 King Pin Bowl & Ale House in West Bend and Dave's Lanes in Hartford
When: February 19, 20, 26 & 27.
Register your team of 6 bowlers for any one of the 7 bowling shifts. Bowl at King Pin Bowl & Ale House in West Bend on February 19th at 9:30pm, the 20th at noon or the 27th at noon or 9pm; or bowl at Dave's Lanes in Hartford on Friday, February 26th at either 6 or 9pm.
This year's event theme is "pirates" and dressing the part is encouraged! To participate in the event, each bowler is required to raise a minimum of $75 in pledges, this earns bowlers an exclusive 2016 BFKS T-shirt, 2 games of bowling and free pizza! Great prizes are available to top fundraisers including a $500 Electronics Package and a $300 and $150 Visa Card. To register for BFKS, please call Big Brothers Big Sisters at (262)334-7896 or to find additional event information and to register online visit: http://www.bbbswashco.org/bowl-for-kids-sake/.
###
About BBBS of Washington County
BBBS' mission is to Provide children facing adversity with strong and enduring, professionally supported one-to-one relationships that change their lives for the better, forever. BBBS is a non-profit 501(c)(3) organization that serves Washington County and is affiliated with Big Brothers Big Sisters of America, the largest and oldest youth mentoring organization in the United States. To learn more about BBBSA visit BigBrothersBigSisters.org.