June 11, 2019 – Iron Ridge, WI – PS Seasoning & Spices in Iron Ridge, WI announces its 100,000 meal donation to The Outreach Program as part of its Fight Against Hunger initiative. This donation marks a milestone in PS Seasoning's campaign to ensure all people have access to nutritious food both in the United States and abroad.
Since launching September 2017, PS Seasoning has donated and packaged meals that are then distributed to local and national food pantries. Every soup, oatmeal or pancake mix purchased from PS Seasoning provides six meals to a family in need. "We launched our buy one, donate six campaign less than two years ago and quickly grew our numbers due to the incredible support of our customers," said President Joe Hanni. "We look forward to continuing to engage our staff, customers, and community in our mission to deliver nutrition to those in need."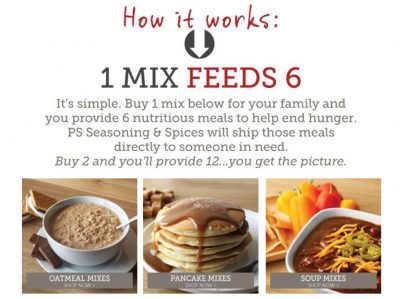 Hunger is the world's number one health risk, with over 49 million Americans at risk, according to The Alliance to End Hunger. PS Seasoning's partners at The Outreach Program tackle this head-on by packing and distributing nutrient-enriched meal pouches across the United States and beyond. The nonprofit organization also holds volunteer meal pack events that promote team building and community engagement while educating participants about hunger insecurity.
"We thank PS Seasonings management and staff, as well as its customers, for their contribution to our mission," Outreach Program Co-Founder and President Floyd Hammer said. "Their compassion and desire to make a difference in this world has had a positive impact on the lives of those in the community and beyond."
To participate in the Fight Against Hunger or to learn more, visit PSSeasoning.com/FightHunger.
About PS Seasoning & Spices
Since 1977, PS Seasoning & Spices has been crafting award-winning seasoning blends and spices from the finest global ingredients. Available to both retail and wholesale markets, PS Seasoning offers solutions are designed for sausage making, BBQ, home cooks and more. Headquartered in Iron Ridge, WI along with its sister company, Pro Smoker 'N Roaster, PS Seasoning carries on old-world flavors and traditions while also creating new products and blends to meet modern-day demands. For more information, visit PSSeasoning.com.
About The Outreach Program
The Outreach Program was started by Floyd Hammer and Kathy Hamilton of Union, Iowa. A non-profit 501(c)(3) organization, Outreach has helped to package more than 530 million meals that have been distributed across the United States and around the world. Outreach Meal Packaging Events are set up across the United States to engage businesses, religious and civic organizations, schools, and volunteers of all ages to package nutritious meals for the hungry. Co-Founders Floyd Hammer and Kathy Hamilton were recently invited to the White House by President Barack Obama and former President H.W.Bush to be honored with the 5,000th Point of Light Award. As a recipient of the top "Four Star" rating from Charity Navigator and GuideStar's Exchange Seal for transparency, Outreach is committed to improving the lives of disadvantaged individuals. For more information, visit outreachprogram.org.