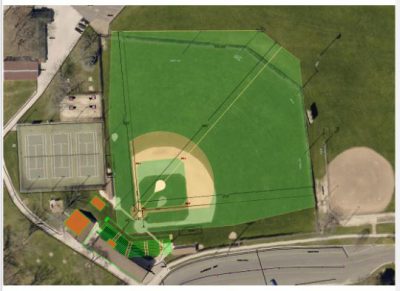 Dec. 4, 2018 – West Bend, WI – It was August 7, 2018 when a ceremonial groundbreaking was held to signify the official start of the reconstruction project at Carl M. Kuss Field at Regner Park in West Bend.
The project would include a synthetic turf baseball field with a new, ADA equipped grandstand.
A grant from the Cal Ripken Sr. Foundation helped spark the $2 million project. Back in May, West Bend Mayor Kraig Sadownikow said "the $500,000 grant from the Cal Ripken Sr. Foundation was a game changer for the project."
Sadownikow praised the West Bend Baseball Association for donating "tons of time and energy" with money and scoreboards and field work. "I've been involved in five years of discussion, but getting the $500,000 grant is very important and what the MOU recognizes is $175,000 from the City of West Bend,  $100,000 from the West Bend School District and $35,000 directly from the WBBA."
The remaining balance of the first $500,000 will be privately raised.
Then in October the West Bend Mutual Charitable Trust presented a $500,000 gift to help move the new field closer to fruition.
Following Monday night's, Dec. 3,  Common Council meeting Sadownikow said the park will be done by June 15, 2019.
"Progress is going well. Soil borings are scheduled to be out on site before Christmas which is the first step in the process," he said.
"My understanding is fundraising is on schedule and we expect baseball by the summer of 2019."
Sadownikow said if the current schedule holds the demolition work will be underway in March.
The WIAA spring baseball season begins March 23, 2019 with the first game slated for March 31.
The current scenario, which could possibly change, looks like the first season for WIAA spring baseball in West Bend will be played at the high school field on Decorah Road.
There's a meeting tonight with the WBBA where an update on fundraising will be discussed.