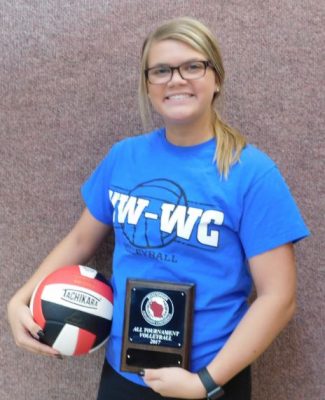 Oct. 29, 2017 – Washington Co., WI – UW-Washington County Volleyball player Courtney Peters made the Wisconsin Collegiate Conference All-Tournament Volleyball team.
There were 12 teams that participated in the State Tournament and only six players were voted to the All –Tournament team.
"Courtney had a wonderful tournament," said coach Deb Butschlick.  "She played every point as it was the last point of the match.  As a returning player, Courtney already knew what was excepted of her during the tournament and she performed with great skills and heart."
 Peter's seven match tournament stats consisted of 37 kills, serving 55/51 (93% accuracy) with 17 ace serves, and 88 digs.