February 21, 2022 – Washington County, WI – Day 9 of the sturgeon spearing season was a slow harvest day with only 46 fish harvested. This is most likely due to the high wind gusts around Lake Winnebago.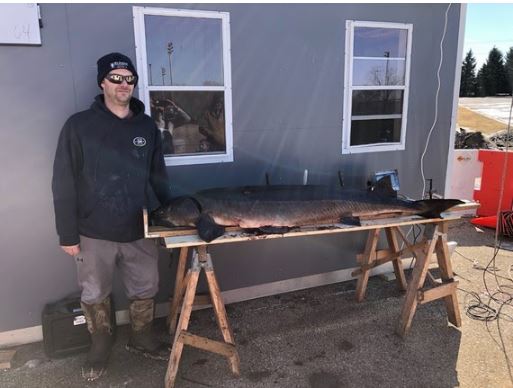 Of the 46 fish brought in, 6 were juvenile females, 23 adult females and 17 were males.
This brings the total on Lake Winnebago to 874 fish. Spearers have harvested a total of 1,223 fish on the entire Winnebago system.
Calumet Harbor had the highest harvest registered for the day with 19 fish (2 juvenile females, 8 adult females, 9 males).
View the full details in today's full harvest report.
Brian Zblewski speared the big fish for the day. It was a 127.2 pound, 72.4 inch F4 female registered at the Grundman Lane registration station.
Today we also saw a 100+ pound male sturgeon. Nick Schaus registered a 106.4-pound, 75.3 inch, M1 male sturgeon at the Harrison registration station. Males this large are uncommon, making an exciting catch. Congrats Nick! This large male was also the first sturgeon over 100 pounds registered at the Harrison registration station.