Nov. 22, 2016 – Slinger, WI – City and Village clerks in Germantown, Hartford, Slinger, Kewaskum, West Bend and the rest of Washington County have put the last national election to bed and are already prepping for a primary in February 2017.
"Aldermen in the even numbered districts will be up for election and so is the mayor," said Megan Gundrum, deputy clerk in the city of West Bend.
Aldermen can start circulating papers December 1. They need to collect between 20 – 40 signatures and the mayor needs to collect 200 – 400 signatures.
In West Bend aldermen up for election include Dist. 2 Steve Hutchins, Dist. 4 Chris Jenkins, Dist. 6 Steve Hoogester, and Dist. 8 Roger Kist.
Mayor Kraig Sadownikow already indicated in July he'd run for another term in office.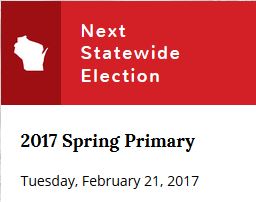 In Slinger, Village President Russell Brandt is up for election as are trustees Rick Gundrum, Richard Kohl, and Dean Otte. Each seat carries a 2-year term. All candidates must turn in 20 or more signatures by Jan. 3, 2017.
In Germantown, 4 of the 9 trustees are up for election including Dist. 1 David Balm, Dist. 2 Rick Miller, Dist. 3 Robert Warren, Dist. 4 Jeffrey Hughes.
In Kewaskum, Village President Kevin Scheunemann is up for reelection along with trustees Jim Wright, Jim Hovland and David Spenner.
In Hartford,  Dist. 1 alderman Robert Jewell is up for a 1-year term,   Dist. 1 Randy Meyer for a 3-year term, Dist. 2 Dennis Hegy for a 3-year term and Dist. 3 Barry Wintringer for a 3-year term.
In Richfield up for reelection are: Village President John Jeffords, and Trustees Rock Brandner and Sandy Voss
All terms are 2 years, and 20 signatures are required for each position.

There will be a primary Feb. 21 as four candidates are running for state school superintendent including:
Tony Evers – Incumbent
Jeff Holmes – Administrator, Germantown School District
Lowell Holtz – Former superintendent, Beloit School District
Remy Gomez – 2016 candidate for mayor of Tomah
Superintendent stats via ballotpedia.org