West Bend, WI – Leo DeGroot of West Bend is among 10 finalists possibly headed to the 2021 Green Bay Packer Fan Hall of Fame. According to his bio below,Clci
"Dad became a Packers fan because it was his local team. But he has stayed a Packers fan because the organization has always put integrity above everything. Like my Dad, the Packers are concerned about the quality of people they bring into their family. Dad does not go to as many games as he used to, but his Packers Pride has never been stronger."
Click HERE to vote. Only one (1) mail-in or online ballot per person per day.
Voting ends January 31, 2021. A winner will be announced on a date yet to be determined.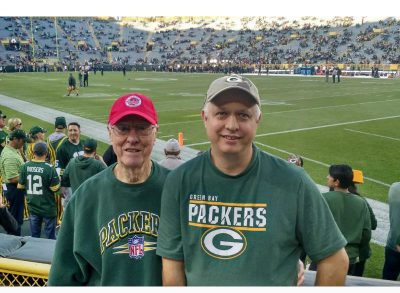 At 89 years young, and as stated on his brick in Lambeau Field, Leo DeGroot remains the "#1 Dad and Packer Backer" to his family. He has lived his life by the words of the great Vince Lombardi: God, Family and the Green Bay Packers.
Click HERE to read the rest of Leo's love for the green and gold.
Quote: "It is an honor to be nominated again for the Hall of Fame. With all that is going on, the Packers are the best distraction. Go Pack Go!!!