Charity Week raised more than $16,500 to support local non-profit organizations.

Student Counsel members from the twin West Bend High Schools, along with teachers, advisors, and other students gathered at Delta Defense to meet with Tim and Tonnie Schmidt, owners of Delta Defense, for a check presentation.  Also on hand were veterans and Delta Defense employees Stewart Honeck (Marine Corps) and Kyle Kloety (Navy). Delta Defense generously matched the amount of money raised by the students on Friday during Charity Week for Project Welcome Home Troops. Tonnie said Delta Defense hires many veterans and is also concerned with mental health issues, especially as they relate to gun use.
The students raised their half of the money through donations, class competitions, and dance proceeds.
On hand from the High Schools was Tony Zappia, Randy Reysen, Skip Clarke, and Amy Swanson Kieser.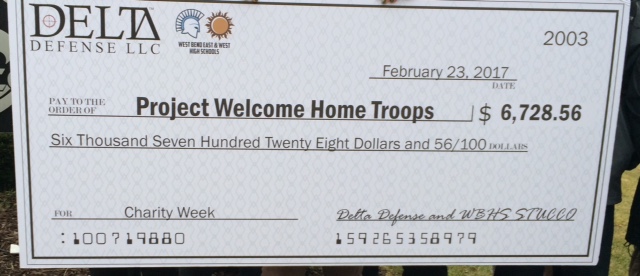 Michael Blaskowski from the Graphics Department (Tech Ed) brought along the large ceremonial check developed at the school. Students in attendance were Nathan Geisel, Taylor Kintopf, Haley Sackett, Cala Ohser, Michael Farrell and Parker Schultz.  Also attending were students Matt Jones and Michael Gugg who both plan to enter the Navy after graduation.
Following the check presentation, Reysen and some of the students stayed for a brief tour of Delta Defense given by Tonnie. Those on the tour were offered posters and a copy of the autobiography, "Guns, Freedom and the American Dream" authored by Tim Schmidt, founder of U.S. Concealed Carry Association (USCCA), who graciously autographed each copy.  Near the end of the tour, Tonnie said that they are expecting to move into their new facility the second weekend of March.
Courtesy West Bend School District.