It was December 7, 2020 when the story posted about the swan's dilemma at Shalom Wildlife Sanctuary in Washington County.
The hunky male mute swan had been its wings surgically altered so he could never fly.
A wild-born female mute swan lands on the lake and falls in love with the flightless male. Swans mate for life.
The female swan wanted to continue her migration to a warmer climate and she wanted her sweetheart to join her, but he cannot fly.
She takes to the air circles around and then lands back on the ice near him, confused on why he won't follow. In early December she had been doing this for three days.
The female swan knows if she stays there will be trouble, because soon there will be no more open water on the lake. If she leaves, her trouble would double if and when she is found on public water during her migration.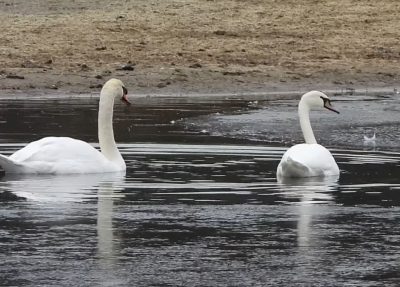 Will she stay or will she go now? An video was posted December 25, 2020 and now it appears she has made up her mind.
Zoo owner David Fechter said, "With the mild weather the lake is still open and she remains with him. We are feeding them daily. She is losing her fear of humans, hunger will do that."
Click HERE if you need a little more Elvis (and Sinatra).