September 20, 2020 – Washington Co., WI – The tines are bent and uneven and the wood handles show more than a century of wear. They live in the far recesses of the silverware drawer and hardly see the light of day anymore, but I cannot bear to part with them because they belong here in the house where they came as new forks to be used by the farming family who became my great-grandparents and grandparents and mother.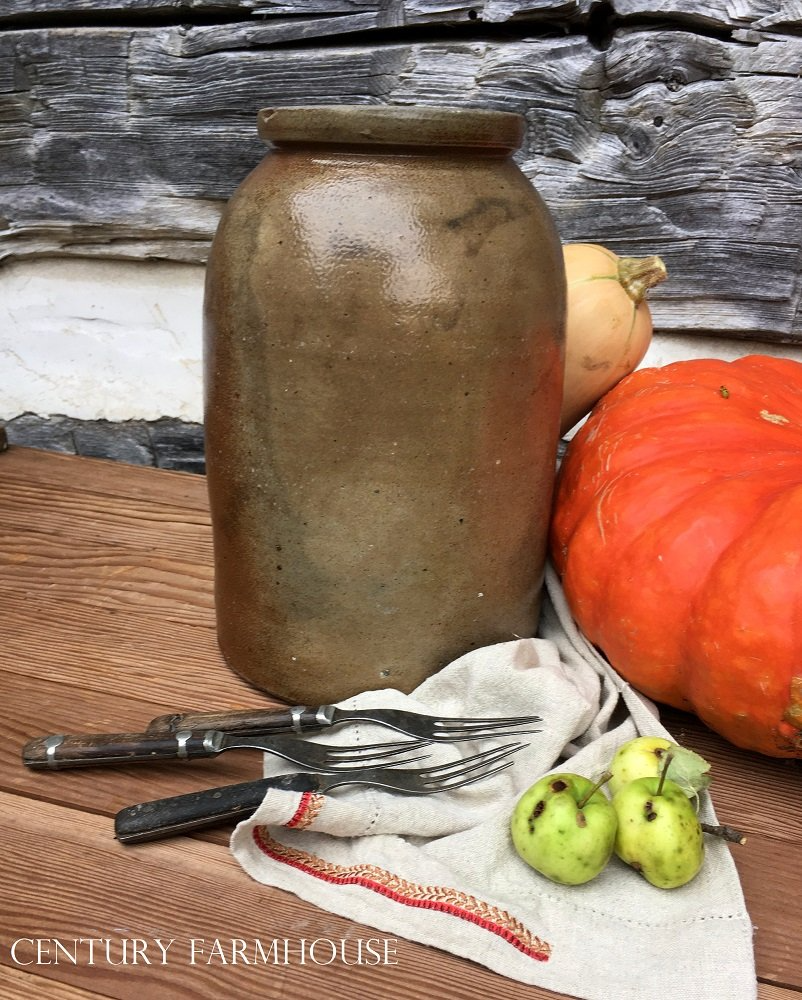 Its top edges are pocked a bit and if there ever was a lid it is now missing, but you can still see the swirls on the inside bottom from having been thrown on a pottery wheel many, many years ago. Its outside is roughly salt-glazed in an uneven earthy brown and the inside is colored with dark, smooth, brown slip. Great-Grandma Anna's salt crock is still intact and I guard it carefully even as I use it to hold springtime pussy willows and late fall dogwood and spruce branches. It belongs here too, having been used day after day as she cooked and baked on the wood stove in the tiny kitchen of this tiny log cabin.
_________________
It is not unusual for me to reach into a cupboard and grab a pot or a spoon or a bowl or a cake plate that once belonged to someone on my family tree, and every piece has a story or it would not have ended up in my kitchen.
I crawl deeply into the back corner of a lower cupboard with a flashlight twice a year to find the salt crock, each time holding it in my hands, carefully filling it will pretty branches and setting it on a table or deep windowsill, touching and imagining. I never knew my great-grandmother, but I can almost see her, and later my grandmother, reaching into the cellar almost without thinking as they seasoned the meat or vegetables cooking on the wood stove. That wood stove sat just about where my kitchen table now stands and the crock was nearby and used every day.
                        Click
HERE
for more stories on kitchenware history in Washington County.
Kitchenware family memories
When I was growing up I would see those old forks in my grandmother's kitchen utensil drawer. They made fine holders of meats that needed to be held still for cutting, but they probably had outworn their use as everyday tableware. I chose to bring them home with me years later, and they now are seen really only when I get around to cleaning the kitchen cabinets.
They are over 100 years old and saw a lot of use at the farm table in this cabin. What I learned when I brought them back after my mother had a good clear out of her drawers, was that they were used by my great-grandparents and their six children and were left behind when they retired and my grandfather took over the farm.
I look at them and think of stories told about the house and farm and about my grandfather before he married.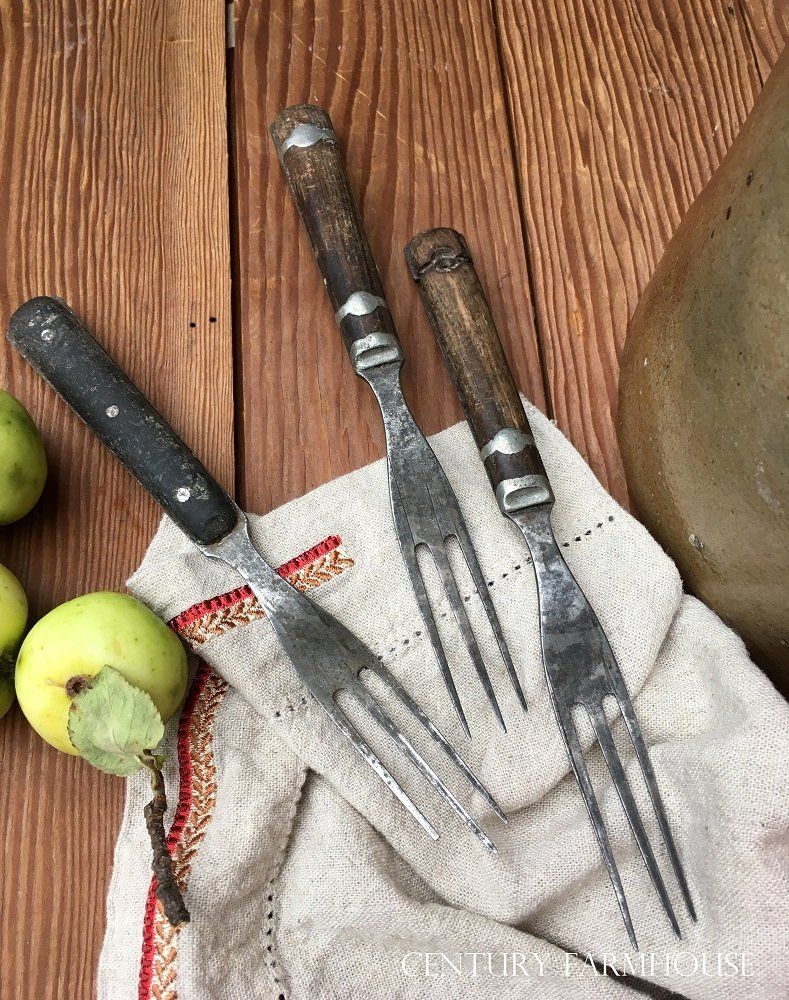 My grandparents married in 1920, but just a year or so earlier my grandfather became ill with the Spanish Influenza. No one was certain how he caught it because as a farmer, he almost never went anywhere. It was said that WWI soldiers brought the virus back with them from the front. Was he sneezed upon by someone at the feed mill or the hardware store? Could he have caught it at a dance, perhaps?
Family lore still speculates, but he was very ill for three months. His unmarried sister Mary came to keep house and nurse him, and his brothers helped with the farm work. I am pretty sure he ate with those wood-handled forks left behind by his parents because he didn't yet have a wife to change the silverware style.
Somehow September and the start of autumn makes me want to nestle into home. I cook and bake and reminisce about the times shared in the kitchen around tables seasoned with family recipes and stories that keep us connected and cozy. It somehow is important to me to touch the things that family before me touched and those links to the past make the present warm and the future inviting.
Find more stories by Ann Marie Craig at CenturyFarmhouse.com
Now seems like a wonderful time to share Great-Grandma Anna's recipe for little Hermits – a treat my mom remembers well, and a recipe Great-Grandma no doubt made here in my kitchen when my grandfather was growing up. Perhaps our oldest family recipe belonged my great-grandmother, Anna Tennies Wagner , who made fruity cupcakes she called Hermits. According to my mother, she made them all the time as after-school treats for her grandchildren, but they also were on the cookie plates among other treats at holiday celebrations. We don't know exactly when she started making them – perhaps she made them as a child, growing up in the mid-1800s.
Great-Grandma Anna's Hermit Cupcakes
1 pound seedless raisins
Boiling water
3 cups flour
2 teaspoons ground cloves
2 teaspoons ground cinnamon
1 teaspoon ground nutmeg
½ cup (1 stick) butter, room temperature
1 ½ cups sugar
2 egg yolks or 1 whole egg
1 teaspoon baking soda
½ cup milk
In a saucepan, combine raisins and boiling water. Simmer until raisins are tender and plumped. Drain, reserving ½ cup water in a 1-cup or larger measuring cup. Let water cool to just warm.
Preheat oven to 350 degrees
Sift together flour and spices.
In a mixing bowl, cream butter and sugar. Beat in egg.
Add baking soda to the ½ cup warm water; it will foam up.
Add flour mixture and milk alternately to batter, beginning and ending with flour. Stir in water and raisins.
Divide batter evenly among 48 greased or lined mini-muffin cups.
Bake at 350 degrees 10 minutes if using a dark pan, 12 minutes for a light-colored pan.
Let cool 10 minutes, then remove to a rack to cool completely. Sift powdered sugar over the top, if desired. Makes 48 mini-cupcakes.
.
Note: This recipe was originally published in The Flavors of Washington County Cookbook, page 292, submitted by my mother's cousin, Rosemary Gundrum, of West Bend, WI. My sister Carol and my mom reworked the recipe to fit today's baking standards and that was published on May 23, 2017 in the Milwaukee Journal Sentinel. These Hermits are wonderfully soft and fruity. Yum.