September 10, 2021 – West Bend, WI – The West Bend School District issued a "hold" twice on Friday, September 10, 2021 according to superintendent Jen Wimmer after two incidents at the high schools.
Wimmer provided a graph (below) to indicate the different levels of action taken by the district during certain emergency situations.
"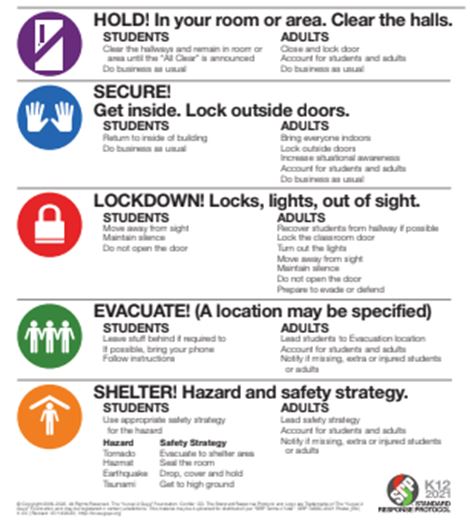 "We'll know more once the principals do a follow up," said Wimmer.
Nobody was hurt during either incident. Wimmer was uncertain how many students were involved. She said there "would be consequences" and parents of students involved would be contacted.
This is the message sent to families today:
September 10, 2021
West Bend East and West Families:
This morning the high school building was put on a hold twice. During a hold, students clear the hallways and remain in their scheduled classroom engaged in instruction until the "all clear" is announced.
Two incidents occurred. A small group of students held a silent protest and were voluntarily moved to a classroom to engage in a conversation with school staff.
The second incident involved a verbal disagreement between a small group of students in the West Cafeteria. Students who were in the cafeteria at that time were moved to the fieldhouse to finish their lunch before the hold was complete. None of these incidents involved threats to physical safety.
Our thanks to the students and staff for their patience and for responding appropriately to these holds. Please call us with any questions.
—
Jennifer Wimmer, Superintendent
On social media parents were upset about not being notified by the district. Others questioned what sparked the protest and concerns about curriculum and consequences.
This is not the first time there has been action taken at the high schools.  In November 2014 an incident at the school drew a heavy police response after more than 75 students were involved in a protest around the cafeteria. Suspensions were issued after that incident.
This is a working story and more information will be posted when details become available.