Downtown West Bend Theatre sign coming down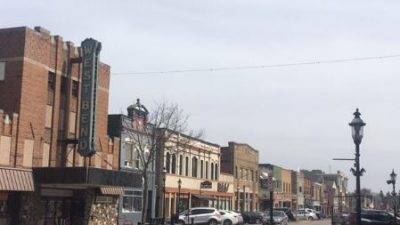 April 26, 2018 – West Bend, WI – The iconic West Bend Theatre sign is coming down. Steiner Electric will be removing the sign as it undergoes much-needed restoration.
The sign on the historic theatre has been a landmark in the downtown since the cinema was built in 1929.
"We will have to be very careful as we take down this historic piece, redo all the electrical components and then reattach it to the building," said Robb Steiner, vice president of Steiner Electric Inc. "It's a high profile and sensitive job, but it will be a labor of love. We are the right team to take on the challenge."
In July 2016 Steiner and his team donated their services and replaced and repaired the lights in the marquee.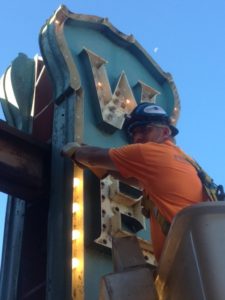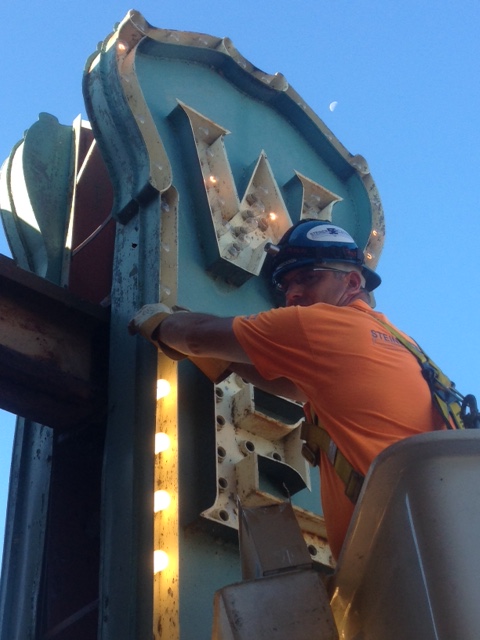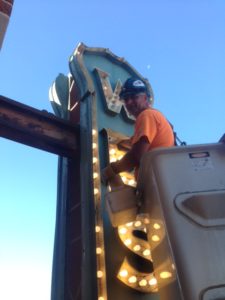 The lights had been a bit of an issue. In May 2016 we posted a story about 'How many philanthropists does it take to screw in a light bulb?"  That's after Kevin and Amy Zimmer gave the project a go.
It appeared Amy was holding the ladder and chucking bulbs up to Kevin. Their ladder only went so far….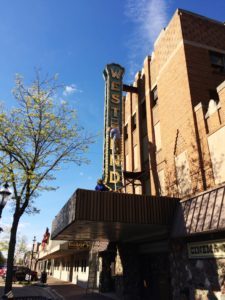 Welcome Rob Steiner stepped up, along with Mr. Zimmer who helped supply the replacement bulbs, and they got the job done!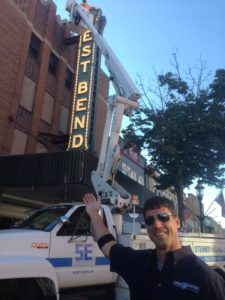 Now Steiner is donating his time again and giving the sign and it's 470 bulbs a complete overhaul.
Volunteers will be sought for the paint removal and re-painting.
The board of Historic West Bend Theatre Inc., a non-profit corporation, is completing a market analysis of what the community would like to see happening in a renovated multi-purpose facility. Concurrently, MSI General, a design-build firm, is working on initial concepts that will accommodate a variety of events.
Nic Novaczyk, HWBT president, said, "The offer by Steiner is a great kick-start to our fund-raising efforts. We need the whole community behind this project. Steiner is leading the way."
On a side note: Contractors turned in bids to replace the air conditioning unit. The project is located on the roof and a request was put in to shutdown Main Street for three days to complete the project with a crane. The city said 'no.'
Plan B – the units will have to be flown in via helicopter.  We'll keep you posted.