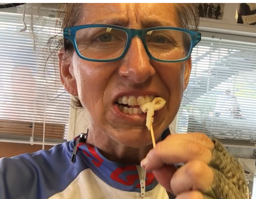 July 7, 2017 – Netherlands – Judy Steffes is currently in Volendam, a fishing town in northeast Holland that has streets set up "labyrinth" style. 
A trip to the local fish market saw Judy being coerced into tasting "eels." Will she like it?
Head on over to imthebikewriter.blogspot.com to watch the video and find out as Judy bikes to raise funds for memory care programs at local Cedar Community on The Amazing Ride for Alzheimer's.