November 11, 2019 – Jackson, WI – The Jackson Fire Department has upgraded its Advanced Emergency Medical Service to Flex Staffing at the Paramedic level. This was made possible by a new law called ACT 97. The ACT 97 reads as followed.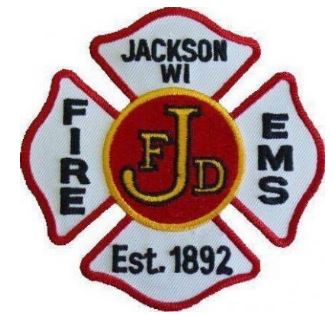 SECTION 1. 256.15 (4m) of the statutes is created to read:
256.15 (4m) UPGRADE TO AMBULANCE SERVICE LEVEL. (a) In this subsection, "rural ambulance service provider" means an ambulance service provider for which the population of the largest single municipality, as defined in s. 5.02 (11), in the ambulance service provider's service area is less than 10,000.
(b) An ambulance operated by a rural ambulance service provider that is licensed under sub. (5) at any level may upgrade its service level to the highest level of license of any emergency medical services practitioner staffing that ambulance if the medical director approves a proposal submitted to him or her by the rural ambulance service provider.
(c) A rural ambulance service provider that upgrades its service under par. (b) may advertise only the level of service that the rural ambulance service provider is able to provide 24 hours per day.
(d) A rural ambulance service provider that is intending to upgrade its service under par. (b) shall submit to the department an update to its operational plan including a description of its intention to upgrade.
The Jackson Fire Department has submitted the new operational plan in compliance with Wis. Stat. 256.15 (4m)(d) regarding flexible staffing and has been received and filed with the Department of Health Services. The updated operational plan has been approved by the Jackson Fire Department medical director, Stephanie Post, MD.
Stephanie Post, MD has become our new medical director. She is an Emergency Room Physician at Ascension Columbia Saint Mary's Ozaukee and Ascension Columbia Saint Mary's Milwaukee. She received her medical degree from the Medical College of Wisconsin and has been in practice for nine years. Emergency medicine specialists diagnose and treat patients with life-threatening conditions like heart attack, drug overdose, shock, or massive bleeding.
Dr. Post will be accompanying the Jackson Fire Department during calls for service and will offer opportunities for extensive training in the EMS field. She is very passionate about the Emergency Medical Service field and will be helping Jackson Fire Department members enhance their skills in the field. The Jackson Fire Department would like to send a warm welcome to Dr. Post and thank her for all her hard work with our new protocols and training she has provided.
"The law was designed to help struggling rural departments downgrade their service when they did not have the appropriate personnel to staff an ambulance at their service provider level. This gave thriving departments, like the Jackson Fire Department, the ability to upgrade their service to a higher level (Paramedic) when permissible. The Jackson Fire Department will be able to run a paramedic service Monday thru Friday from 6 am to 6 pm regularly. The department has since hired a full-time paramedic that is running three days a week, 16 hours a day to help bridge the gap of some of the prime hours at night as well. The Jackson Fire Department will be hiring one more paramedic at the first of the year that will extend the coverage Monday-Saturday from 6 am to 10 pm. The remainder of the hours will continue at the Advance level service they currently are. They will rely on West Bend Fire to intercept whenever a higher level of service is needed on the remaining hours. The hours will extend once the new municipal building is built. There will be living quarters where staff can be at the station 24 hours a day." – Chief Aaron Swaney
Many people do not know the difference between an Advanced EMT and a Paramedic. By upgrading to a paramedic level, the Jackson Fire Department will be able to do chest decompressions, cricothyrotomy, intubation with an endotracheal tube, gastric decompression with advanced airway, Cardioversion, EKG interpretation, pericardiocentesis, transvenous pacing, and medication IV fluid. A paramedic will also be able to give many cardiac drugs, resuscitation medications, benzodiazepine sedatives, narcotic pain medications, respiratory steroids, Benadryl, blood pressure medications, clotting agents, and anti-nausea medications.
"The Jackson Fire Department is one of very few services in the State of Wisconsin utilizing this program. Providing paramedic level services to our residents is a great benefit to those that live and work in our coverage areas. We hope to set the bar for future departments to utilize this program and make it a better service for communities across our State of Wisconsin. " – Chief Swaney