April 23, 2021 – West Bend, WI – West Bend Fire Department was called to the Habitat for Humanity Restore at 8:15 a.m. for reports of smoke in the building.
An employee said he arrived to work and was met with some hazy smoke inside the store. As he walked to the back of the building the smoke turned black, he exited the building, called his boss and then called 9-11.
Deputy Chief Chuck Beistle was first on scene. "I saw smoke in the building and called a working still. Crews made entry into the back southwest corner of the building and knocked down the fire right away," he said.
"We searched the rest of the building and it was contained to that area. Nobody was in the building at the time, so there are no injuries and we're still looking for the cause."
Just a bit of history on that location. Assistance below from Mark Hofert and You know you are from West Bend if….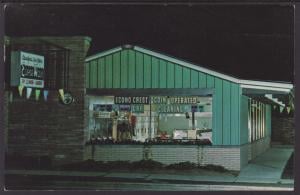 Jack's Lanes was the local bowling alley owned by Jack Wahouske and the location was also home to Staehlers Laundromat in the 1960s.
According to the 1973 Directory, St. Vinnies was at 508 N. Main, and EconoWash at 512 North Main Street. Current tax records show Habitat is 508 N. Main, there is no longer a 512 N. Main, and the tax description shows that the parcel is a combination of two sites.
So, at one time, it was both St. Vinnies and Econowash. The Econowash was "annexed" to St. Vinnies.
Like in 1961, when Village of Barton was annexed to City of West Bend, and two became one.
Press release issued at 2:46 p.m.
Additional units that responded to the fire on the MABAS box card:
Chief 501
Med 12 as the Rapid Intervention Team (RIT)
Jackson Fire Department engine
Jackson Fire Department chief