"Firefighter Chuck" Ruetten retiring today from Jackson Fire Department
May 22, 2020 – Jackson, WI – Washington County Dispatch will be setting off the tones Friday, May 22 between 3 p.m. –  4 p.m. for Jackson Fire Department Firefighter Chuck Ruetten. Chief Aaron Swaney will also issue a public congratulations on his retirement.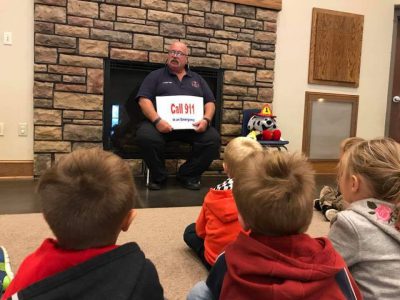 Ruetten began his career 35 years ago with the Slinger Fire Department having served as Fire Chief in 1999. The last 21 years he served as Fire Marshall with the Jackson Fire Department.
Due to COVID-19 the department sendoff will be small but the well wishes are beyond enormous. Police Chief Aaron Swaney said, "It's going to be a big hole in the department. Chuck was a fire marshal for 21 years and knows every business there is; he knows everything about every building."
Ruetten was also a much-loved public educator with the Village of Jackson. Swaney said, "His biggest achievement was in his role as a public educator with the Village of Jackson. He went to all the schools. Every kids knows "Firefighter Chuck."
Following the Jackson Fire Department sendoff this afternoon, Ruetten will be escorted home in a fire engine where he will meet the Slinger Fire Department at his home.
"It's going to be hard to replace his camaraderie with the Village," said Swaney.
The note below is from Jackson Fire Chief Aaron Swaney
Today is Chuck Ruettens last day of work with the Jackson Fire Department. I cannot express enough, how much he has done for the Jackson fire department  and our community. He has been a leader in public education for so many years. There is not a kid in the area that does not know Chuck.
Chuck started his career with the Slinger Fire Department in January 1, 1985.  He achieved the rank of acting fire chief before he retired on January 10, 2012.  While in Slinger, Chuck was very active in training new recruits.  He was also in charge of their inspection bureau and started his very successful career in fire prevention.
He has a way of attracting hundreds of people to his open houses to make them very successful and educational for the not just the kids, but the community as a whole. Chuck started his full-time career in Jackson in May of 1999.  For 13 years Chuck protected and educated two communities, Slinger and Jackson.
Through the years in Jackson, Chuck has developed an incredible program that many are now referring to as the "state of the art". Chuck was granted the opportunity to present at the NFPA conference in Boston, Massachusetts. At the conference he presented "Rural Public Education and Safety". Chuck's biggest passion is educating the public on fire prevention and keeping his community safe.
Chuck is solo on many of his presentations.  He presents to over 600 students in area schools, church and scout groups, day cares, and many others throughout  the community.  Chuck raises over $3000 annually from donations from local businesses used for public educations materials in the schools. During Fire Prevention Month Open House, he attracts over 1,000 people in two hours, focusing on new programs, public demonstrations, and his all famous skit being the main focus.
While in Jackson, Chuck instituted several programs such the Free Pizza if they had a working smoke detector, Ride Home in Fire Truck as a reward for school kids, Birthday Party in Station, Engine to Block Parties, program for funding in cooperation with Culvers, and Smoke Detector and Residential key box installations.
So not only did he institute these programs, but he actively participates in them adding to their success.   Some of his other duties include radio talk show with local stations discussing Fire Safety and Prevention, inspects over 700 businesses, and runs Fire and EMS emergency calls. There is not a person in his community that does not know Chuck. He walks into a business or a house and people moods change to happiness. He really brings out the best in everyone.
Chuck has taken a proactive approach in the schools and churches when it came to enforce the 20% rules and Christmas Trees codes. Chuck was tasked with the first beta testing, in Wisconsin, for the Image Trend Inspection Elite. Chuck has been a dedicated member of the Wisconsin Fire Inspectors Association for approximately 30 years and for seven years running holds the position of Secretary for the Area 6 . Chucks meeting attendance record shows his dedication to this organization. Chuck's passion for Public Education shows in the interest he has for the work.  He truly wanted to reduce home fires and keep the community safe.
Public education is often viewed as a chore for line firefighters and often not the most fun thing to do.  He did not see it that way, he takes pride in his work and is always looking for the next best way to educate the citizens and business owners. He continues to investigate the need for new codes and makes the State of Wisconsin a Safer place.
Over the years Chuck has done many things for the Fire Service behind the scenes.  He makes it his mission to not only recruit but make new firefighters a successful asset in their department and community.  He has served as mentor to a plethora of individuals throughout the years, giving many hours of time and energy. Although he has been a part of every step in the Village of Jackson, he will be most recognizing as Firefighter Chuck to every kid in the surrounding area. His educator of the year award in 2017 says it all.
His dedication cannot be measured in one's success as a Firefighter but be acknowledge as an achievement.  I believe that his track record over the years should be recognize as a great achievement. We acknowledge his 21 year of service at the Jackson Fire Department as well as his 35 years in total. Congratulation Chuck on your well-deserved retirement.
Aaron A. Swaney
Fire Chief, BS
Jackson Fire Department